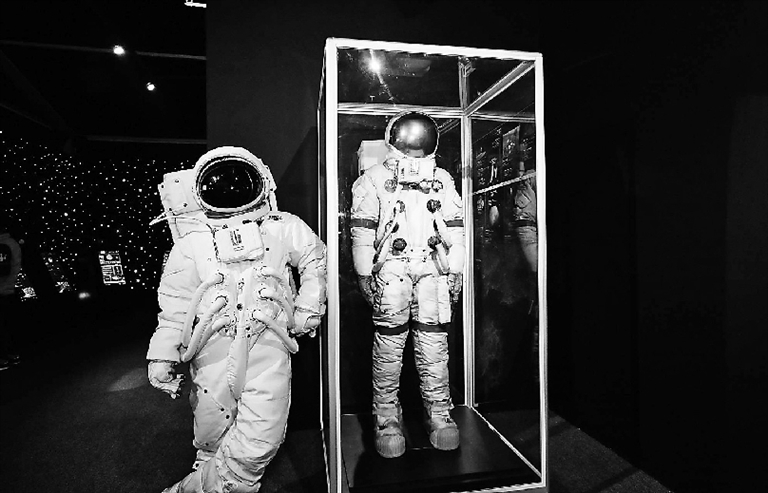 For those who dream of standing on the surface of the Mars while watching the sunset, an immersive experience through the solar system as an astronaut is now within reach at the "Neighborhood Earth" exhibition in UpperHills.
Designed and produced by Chronica Creative and in partnership with the U.S. Space & Rocket Center, the official visitor's center for NASA's George C. Marshall Space Flight Center, the exhibition is divided into six areas in three floors, including an immersive travel experience of the solar system, a life-sized International Space Station (ISS) model, hologram kiosks of space robots and planets, other universe-related exhibits and various hands-on activities.
Visitors can zoom through the solar system with a 360-degree cinematic experience along with the spacecraft and robotics that explore our celestial neighborhood. These astonishing images come from the NASA spacecrafts such as the Horizon, the Voyager and the Solar Dynamics Observatory are put together in a 30-minute film. In addition to the amazing footage, the accompanying sound effects and narrative voice-over enable visitors to have a comprehensive understanding of our neighboring planets.
The life-sized ISS model, with exactly every detail in place, shows the living environment of spacemen.
The kiosks are hands-on, educational stations that include touch panels that correspond with the hologram on the screen at the top of each kiosk, breaking down details of each planet and the robotic animal that toured that planet.
Two high-fidelity space suits are on display as well. One is the classic NASA A7-L; the other is the NASA Z-2, which incorporates 3-D printing into the design. The original version of the former was used for Project Apollo 11 in the 1970s and the latter for the forthcoming Mars landing program respectively.
What is definitely worth mentioning is the first Moon watch, Omega Speedmaster, which is on display at the Moon Landing area. The watch was worn by astronauts Neil Armstrong and Buzz Aldrin on the lunar surface. In the following 60 years, the watch has been used in all manned space missions, becoming one of the permanent facilities on the International Space Station.
Family-friendly popular science education is a key section of this exhibition. An original education guide from the U.S. Space & Rocket Center is integrated into all free tours through the exhibition.
Dates: Until Sept. 2
Hours: 10:30 a.m.-9:30 p.m., closed Mondays
Tickets: 88-299 yuan
Venue: UpperHills, 5001 Huanggang Road, Futian District (福田区皇岗路5001号深业上城)
Metro: Line 3 to Lianhuacun Station (莲花村站), Exit C(SD News)