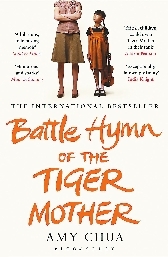 This is a book by American author and lawyer Amy Chua published in 2011.
The complete blurb of the book reads: "This is a story about a mother and two daughters. This was supposed to be a story of how Chinese parents are better at raising kids than Western ones. But instead, it's about a bitter clash* of cultures and a fleeting* taste of glory."
"Tiger Mom" Amy Chua strikes a bargain* with her Jewish husband: If she "allows" him to raise their two daughters in the Jewish faith, he will "allow" her to raise them in the Chinese way. That means each must play a musical instrument, and practice said instrument several hours every day (even on weekends and vacations); each must earn straight A's; no sleepovers or playdates. Their first child, Sophia, is the perfect Chinese daughter, obedient and compliant*. Their second daughter, Lulu, is not. Complications ensue.
This interesting book has generated a lot of controversy*. Chua, while belittling and berating her daughters in order to get them to perform their very best, appears to be self-aware, at least some of the time. She admits her failings with Lulu, and although eventually letting her choose her own path (to a degree), she still chafes at the lack of control.
Many readers missed the supposed irony* and self-deprecating humor in the title and the piece itself and instead believed that Chua was advocating* the "superiority" of a particular, very strict, ethnically defined approach to parenting. In fact, Chua has stated that the book was not a "how-to" manual but a self-mocking memoir*.
(SD-Agencies)