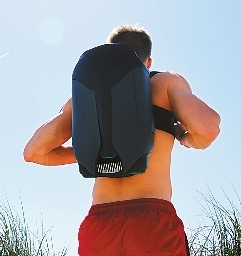 A university student has designed a 3-D printed underwater jetpack that can seamlessly propel you around a pool.
Archie O'Brien, a design student at Loughborough University, began building the CUDA underwater jetpack as part of a student project and it would go on sale in 2019.
The jetpack can go up to 13 kilometers per hour, but users can adjust it manually, or even turn on a cruise control mode.
O'Brien worked with company 3D Hubs to build CUDA, which contains roughly 45 printed parts total. It can be assembled* in less than 10 minutes underwater.
Even the device's impeller*, a rotating mechanism* that powers the centrifugal pump*, is made out of printed material, further reinforced with carbon fiber that gives it the extreme stiffness needed for such parts.
A detachable lithium ion* battery pack is built into the device, which allows for continuous use.
O'Brien coated the parts with epoxy resin* and added silicone* seals on the doors to the battery so that water can't leak in.
CUDA could have applications beyond the consumer, too, as O'Brien believes it could potentially be used in search and rescue efforts.(SD-Agencies)