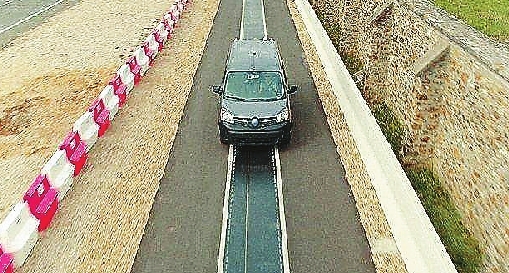 Electric cars could soon be charged wirelessly as they drive on the roads, as part of a new US$53 million U.K. government proposal.
The scheme would see charging pads built into roads that are capable of transferring electricity to the undersides of vehicles, topping up their battery levels.
The advantage of the wireless scheme in the proposal is that it does not require any physical contact between the car and the road surface.
The plans could see wireless charging points built at the roadside, at car parks, service stations and even under motorways and roads. U.K. government officials also want new homes and offices to be built with electric charge points, under the scheme.
Wireless charging works in a process called electromagnetic induction*. A pad on the ground has electricity passed through a coil of wire to generate a magnetic field. This field transfers electricity to a receiver built into the underside of the car.
A number of companies already offer commercial options for wireless charging in all-electric vehicles, including BMW and a number of third parties based in the United States.
Similar technology has also been trialed on the roads, with smartphone chipset manufacturer Qualcomm previewing its own efforts in the field in May 2017.
It has created a 100-meter stretch of road that charges electric vehicles as they travel along the stretch of tarmac*, even at high speeds.
It works by linking a number of Qualcomm's Halo wireless charging pads, designed to charge an electric car when it's parked, into a stretch of road.
A consistent 20 kilowatts of power was sent to each car during the demo, which is almost on a par with* the 22 kilowatts provided by most public electric-car charging points dotted around the U.K.(SD-Agencies)