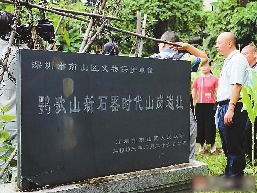 A VARIETY of vegetables have been illegally planted at a cultural relic protection site in Nantou Subdistrict, Nanshan District, the Southern Metropolis Daily reported.
Several deputies to the Municipal People's Congress and the Nanshan District People's Congress, as well as some government officials, visited the Yingge Hill Neolithic Age Ruins between Nantou Middle School and the west entrance of Zhongshan Park on Tuesday after receiving complaints about the plants from residents. The vegetable field, covering an area of about 400 square meters, is surrounded by green belts, which were littered with waste, despite a plaque stating the area is a cultural relic protection site.
This cultural relic protection site was discovered in 1956. Some pottery and stone implements have been excavated from the site since then. In 1984, the site was confirmed by Shenzhen Museum as the remains of the late Neolithic Age.
The plaque for the protection site is standing in this vegetable plot, meaning that the vegetable field is right on top of the cultural relic protection area.
The deputies and officials also investigated another heritage, a watchtower built during the 1940s, and found that the watchtower had been covered up with trees and weeds due to a lack of protection.
After an investigation, the deputies and officials discussed methods to tackle this problem. They suggested that the vegetable field and surrounding waste be cleared soon.
Relevant departments should take measures, such as planting grass and establishing fences, to protect the site. Additionally, they proposed that the site be reconstructed into a heritage park with the watchtower renovated into a patriotic education base.
According to the deputies, relevant departments should pay attention to protecting historical sites. Zou Yongyi, a Nantou Subdistrict official, said that the subdistrict office would enhance communication with administrative departments about cultural relics to better protect heritage sites.
(Cui Chenxin)