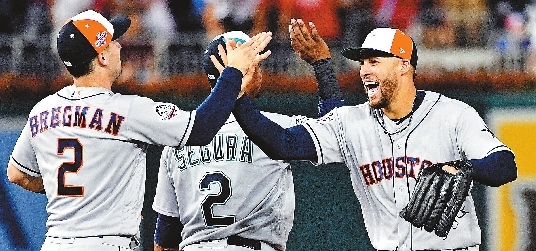 A RECORD 10 home runs. A slew of strikeouts.
The all-or-nothing Major League Baseball (MLB) All-Star Game mirrored what baseball has become.
Astros teammates Alex Bregman and George Springer homered on consecutive pitches to begin the 10th inning, and the American League (AL) beat the National League (NL) 8-6 Tuesday night for its sixth straight win. Mike Trout, Aaron Judge and Jean Segura also connected for the AL in a game where every run except one scored on a homer.
Scooter Gennett hit a tying two-run shot off Seattle closer Edwin Diaz in the bottom of the ninth. Joey Votto, Willson Contreras, Trevor Story, Christian Yelich also went deep for the NL.
There had never been more than six homers in an All-Star Game since Babe Ruth hit the very first one in 1933.
Not that everything went the sluggers' way. Starters Max Scherzer and Chris Sale and the relievers combined to fan 15 in the first 4 1/2 innings, and there were 24 strikeouts overall.
Fitting, because this season is on pace to become the first with more strikeouts than hits, a year after a record number of home runs.
Orioles shortstop Manny Machado had fun, pulling out a camera to snap a selfie at second base after Matt Kemp doubled. By yesterday, they could be teammates — Baltimore seems ready to trade Machado, with the Dodgers and Phillies in the mix.
(SD-Agencies)