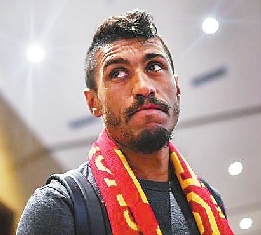 GUANGZHOU Evergrande will aim to reignite its challenge for an eighth successive Chinese Super League (CSL) title this week buoyed by new arrivals Paulinho and Anderson Talisca as the title race resumes.
Fabio Cannavaro's side welcomes the Brazilian duo to the club as it seeks to close a five-point gap on leader Shanghai SIPG over the remaining 19 games of the Chinese domestic season.
Guangzhou is fifth in the standings, with six points separating the top seven teams after the first 11 games of the campaign, and the southern Chinese side is sure to be boosted by the return of Paulinho in particular.
The former Tottenham Hotspur midfielder spent two-and-a-half seasons with the club and won the AFC Champions League title and three CSL crowns before departing last summer to join Barcelona, where he won the La Liga title.
But the 29-year-old has returned to Guangzhou on loan in the aftermath of Brazil's quarterfinal exit from the World Cup in Russia and he will be expected to play a major role in lifting the fortunes of Evergrande. The midfielder was instrumental in Evergrande's dominance of the Chinese game during his previous stint and was given an enthusiastic welcome by the club's fans on his return to Guangzhou airport at the weekend.
Some of the foreigners in the CSL are reportedly among the world's best-paid players, but Paulinho said he chose to return because standards were "gradually improving."
"After training with Evergrande and Barcelona and the experience of playing for Brazil's national team in the World Cup... I hope to bring more championships to the Guangzhou team and its fans as well as more excitement to the CSL," he said in an Evergrande statement.
Paulinho will be joined by Talisca, who is on loan from Portugal's Benfica.
Paulinho isn't the only World Cup player to arrive in China's summer transfer window, with Morocco striker Ayoub El Kaabi and Serbia center-back Dusko Tosic heading to Hebei China Fortune and Guangzhou R&F.
(SD-Agencies)