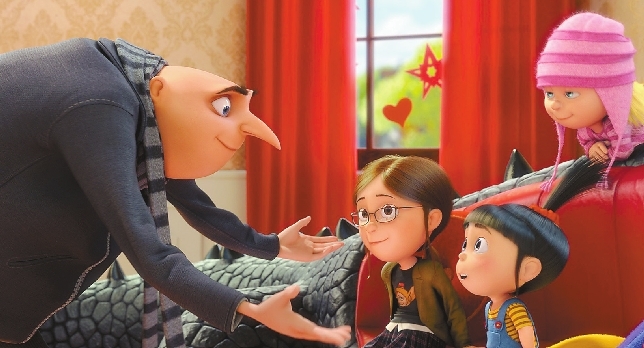 'Boruto: Naruto the Movie'
"Boruto: Naruto the Movie" is a 2015 Japanese animated film and the directorial debut of Hiroyuki Yamashita. It is based on Masashi Kishimoto's manga and anime "Naruto." It stars Yuko Sanpei, Junko Takeuchi, Kokoro Kikuchi and Noriaki Sugiyama.
Set after the finale of "Naruto," the film focuses on the title character Boruto Uzumaki, son of Naruto Uzumaki, who cannot stay with his family due to being the leader of his ninja village. Vigilante Sasuke Uchiha returns to the village with warnings about two beings who might become a big threat to the world peace the ninjas managed to bring about in the original series.
The film was first teased in the post-credits scene of the previous film, "The Last: Naruto the Movie" (2014). Kishimoto took a large role in the making of "The Last," handling the script and character designs. However, Kishimoto took an even larger role in the making of this film, handling the script, character designs and screenplay. They created new scenes that left a deep impression on Kishimoto.
The film became the franchise's highest grossing film. Critical reception of the movie has been mostly positive, with writers praising the animation, fight scenes as well as Boruto's growth.
Time: 7 p.m., July 20
'Despicable Me'
"Despicable Me" is a 2010 computer-animated film from Universal Pictures and Illumination Entertainment. The film was directed by Pierre Coffin and Chris Renaud as their feature debut film, with a story by Sergio Pablos. The title references the main character as he refers to himself, and is accompanied by a song by Pharrell Williams.
The film stars Steve Carell, the voice of Gru, a supervillain who adopts three girls (voiced by Miranda Cosgrove, Dana Gaier and Elsie Fisher) from an orphanage; and the voice of Jason Segel as Vector, a rival of Gru who steals the Great Pyramid of Giza. When Gru learns of Vector's heist, he plans an even greater heist: to shrink and steal the Earth's moon. However, despite Gru's villainous intentions, he grows increasingly touched by the girls' growing love for him and find himself changing for the better because of it.
"Despicable Me" grossed over US$546 million worldwide, against a budget of US$69 million. It launched the "Despicable Me" franchise series of films in 2013, 2015 and 2017.
Time: 7 p.m., July 27
Venue: 3/F, Shenzhen Book City Bao'an Store, Zhongxin Road, Bao'an District (宝安区中心路深圳书城宝安城三楼)
Metro: Line 11 to Shajing Station (沙井站), Exit C(SD News)