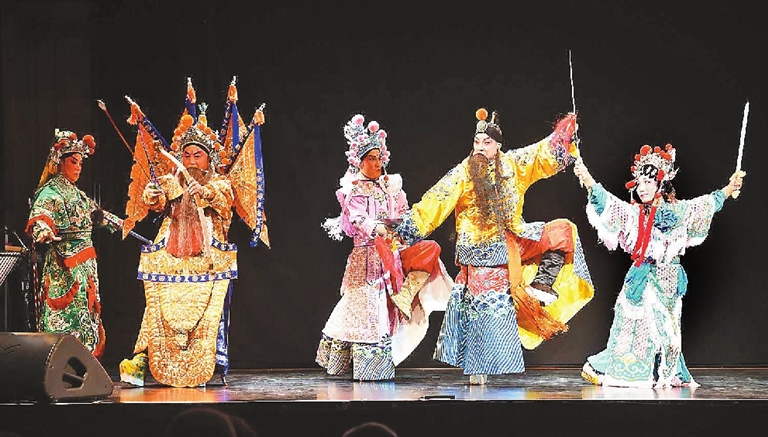 INVITED by the city government of Avignon in France, the Bao'an Cantonese Opera and Song Association is currently performing "Madame Macbeth" with a Cantonese twist at the Avignon Festival from July 9 to 21. This is a fresh step toward cultural exchange after the council of Avignon, France approved a bill on establishing sistership with Bao'an District on April 25.
Vice mayor of Avignon Jacques Montignac said in the invitation letter that the participation of the Bao'an Cantonese Opera and Song Association in the Avignon Festival this time not only provides an opportunity to world opera lovers to get a better understanding of Bao'an, but also facilitates a win-win situation in international culture exchange between the two sides.
"Madame Macbeth" is a new version of Shakespeare's classic play based on the codes of Cantonese opera, an exploration that blends the Chinese and Western performing arts. In this opera, Macbeth's wife becomes the main character, and embodies both good and evil, beauty and monstrosity.
Cantonese opera is one of the major genres of Chinese opera, originating in southern China's Guangdong Province. Being part of UNESCO's Intangible World Heritage list, it uses music and dance to tell stories. Zhuo Peili, winner of the prestigious Chinese Plum Blossom Award, showcases her virtuosity and talent in the lead role.
While sticking to the plot of the Shakespearean tragedy, the troupe's take on "Madame Macbeth" includes traditional elements of Cantonese opera. Various melodies allow the audience to explore the complex intimacy of the protagonist, and to transmit the emotional force of the play in its entirety.
Last year the play was also staged at the Edinburgh Festival Fringe. With an entirely unique style, flair and vibrant color of a traditional Cantonese opera, the opera won rounds of applause from the audience.
The Avignon Festival, one of the most important international events for performing arts, takes place in Avignon every summer. Avignon is a charming city in southeastern France. Recognized for its architectural beauty and historic importance, the center of Avignon was designated a UNESCO World Heritage site in 1995.
Before becoming one of the most important events for gathering dramatic arts works and audiences from all over the world, the Avignon Festival has had a modest beginning, born by the initiative of Jean Vilar who in 1947 created "A Week of Dramatic Art in Avignon" in order to lure people to art and culture again. (Chen Xiaochun)