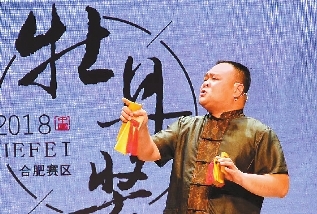 "DIRECTOR General Going Home," a Bao'an allegro, stood out from over 100 works and was recently nominated for the regional-division literature award of the Chinese Folk Art Peony Award at the 10th National Folk Art Contest held in Hefei, capital city of Anhui Province.
Two other works from Shenzhen were also nominated, including a monologue storytelling performance by Liu Zhao, which was nominated for the performance award, and a group crosstalk by Liu Di, Guo Yinghuan and Ma Yue, which was nominated for the program award.
"Director General Going Home," which is produced by the president of the Shenzhen Ballad Singers Association Wu Jinfu and directed by the head of the Sunshine Folk Art Troupe Zhao Zilin, follows a storyline depicting the building of Party conduct and establishment of an honest and clean government, as well as extols the good traits of the director general's upright governance.
According to Zhao, it took six months to produce "Director General Going Home," which was supported by special funds for cultural and sports development in Bao'an District.
Wu said that the fact that three Shenzhen works were nominated shows that Shenzhen's folk art is flourishing and reflects the high quality of Shenzhen folk art.
Wu added that in the future the city's ballad singers association will play its role in helping folk art performers become more creative and professional, produce more quality works and contribute more to the growth of Shenzhen's folk art scene.
This year's contest received a total of 312 entries, of which 165 were nominated. Fifty-two shows including crosstalks, sketches, allegros, monologue-style storytelling and Shandong quick-patter performed by over 200 folk art actors from 21 provinces and autonomous regions participated in the contest.
The Chinese Folk Art Peony Award, approved by the Publicity Department of the Central Committee of the CPC, is a biennial national literature and art award sponsored by the China Federation of Literary and Art Circles, and the Chinese Ballad Singers Association. It is the highest award conferred by the Chinese folk art community. This folk art contest features more than 400 categories of folk art forms.
(Yang Mei)