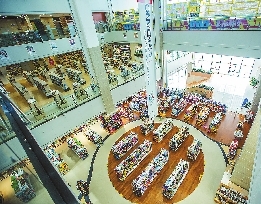 THE Bao'an subvenue of the 28th National Book Expo ignites readers' enthusiasm by organizing colorful activities including the launch ceremony, summit forums, book exhibitions, art exhibitions, and lectures by literary celebrities from July 19 to 22.
The subvenue lies in the Shenzhen Book City Bao'an Store, the fourth generation of creative "book cities" jointly built by the Bao'an District Government and Shenzhen Publication & Distribution Group. It is one of the most popular cultural sites among citizens.
As one of the five main subvenues, the Shenzhen Book City Bao'an Store has designed a series of creative cultural activities to offer citizens a dynamic cultural experience.
Over 100 publishing units are gathered at the east square of the book store and Xinqiao Shuxiang Park to exhibit high-quality books. In order to better meet the cultural needs of the public, it offers citizens books sold at a 12-percent discount.
The exhibition hall of this year's book fair is about 2,000 square meters in area, while the theme hall is inside the Shenzhen Book City Bao'an Store with a total area of 10,500 square meters.
The subvenue is filled with creative highlights aiming to bring readers with rich and diversified reading experience. (A Ding)