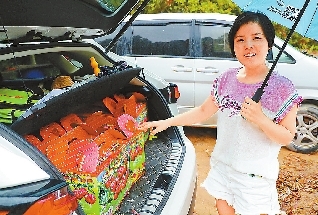 ABOUT 30,000 kilograms of litchis grown on 3,000 litchi trees in Li Zhenyuan's orchard at the foot of Fenghuang Mountain sold out in a few days thanks to warm-hearted residents who braved the rain to go to the orchard to buy litchis from Li, who needed to raise money to pay for treatment for his twin daughters who are suffering from thalassemia.
Li said his family was very happy and surprised to see all the litchis go as they had previously been selling poorly this year, which is a bumper year for the litchi harvest resulting in excessive supply. According to Li, about 20,000 kilograms of litchis were bought by residents and the rest were purchased by Huang Yaowen, a philanthropic entrepreneur in Bao'an District, for 8 yuan (US$1.19) per kilogram. Media reports said Huang distributed the litchis to a welfare center and street cleaners in the district.
Li's family raised 252,570 yuan from the litchi sales, but needed more than 600,000 yuan to pay for bone marrow transplants for the 6-year-old twin girls.
Li's twins, identified as Yaoyao and Junjun, were born with thalassemia in August 2012 and have needed a blood transfusion every month of their short lives. Luckily, Shenzhen Children's Hospital, where Yaoyao and Junjun were being treated, found matching bone marrow donors in Taiwan. However, the family couldn't afford the hefty 600,000-yuan price tag.
Their story was shared online by volunteers. "The family was shouldering a huge burden as they had spent nearly all of their savings on treatments for the two girls," said Lian Meirong, a volunteer from Xin'an Volunteer Federation.
The posts caught the attention of local media, which helped spread the family's story in late June. Hundreds of residents traveled from across the city to Bao'an to buy Li's litchis one weekend in late June.
Residents in Haihua Community, Xin'an Subdistrict, also donated about 130,000 yuan for Li's daughters, and people in other subdistricts of Bao'an District also donated 86,247 yuan. Volunteers in Xin'an, Hangcheng and Fuhai subdistricts also went to Li's orchard to help pick and pack the litchis for residents, and a fleet of 40 vehicles helped deliver the litchis.
The parents of another child who had suffered from the blood disease donated about 80,000 yuan of the money that had been raised by volunteers for their child's surgery.
Li said that with the donations they've raised enough money for the surgeries Yaoyao and Junjun need. "We will also donate the money to children suffering from the blood disease if there is any left over after the surgeries," Li said. (SD News)