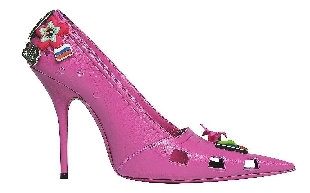 RECENTLY, Crocs caused quite a stir when it debuted a high-heeled version of its humble closed-toed slides. But, just in case you want a slightly fancier, designer version, Balenciaga has you covered. On Tuesday, the brand took the sensible, waterproof shoe to another level when it posted the photo of Croc-inspired stilettos on Instagram. They also look like a pair of shoes Barbie might wear, perhaps because of their pink coloring and rubbery-looking texture.
This isn't the first photo the brand has released of the heels, though. On June 29, a picture of a model wearing the footwear appeared on the fashion house's feed.
As of now, there's no more information on the pumps other than the fact that they exist and it's unclear if this is a collaboration with Crocs or just a design inspired by the rubbery footwear.
One thing we do know is that Balenciaga has taken Crocs to new heights before. In October 2017, the two brands collaborated on a pair of platform Crocs, which then promptly and inexplicably sold out before they were even released in stores.
Those babies cost US$850, so you can get an idea of how much these new stilettos might be. (SD-Agencies)