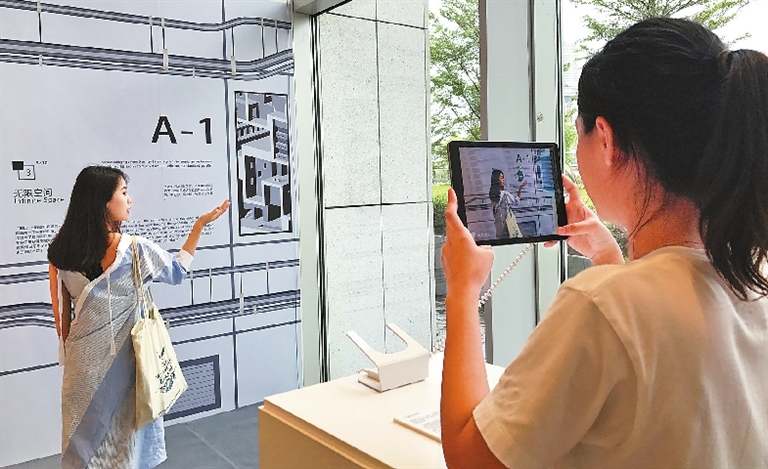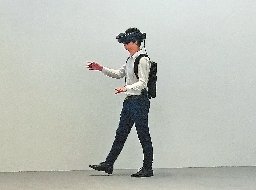 Cao Zhen
caozhen0806@126.com
Virtual reality (VR) has become a familiar technology, but now you can have a novel VR experience that gives the illusion that you are in an unlimited vertical space.
"5x10: A Journey to Mixed Reality," a large-space AR/VR immersive art exhibition, is being held at Design Society|Sea World Culture and Arts Center in Shekou until Aug. 10. Entry is free.
Presented by Shenzhen ConfigReality Technology Ltd., a hybrid reality unlimited walking solutions provider, the five works showcased at the exhibition emulate a futuristic space through VR and AR (augmented reality).
"Simulacra Space," a five-minute VR experience, is not to be missed. In a 50-square-meter space, users with wearable devices can experience wandering through a large vertical space. Users can also use their hands to interact with the virtual images projected through the headset.
According to ConfigReality, their research on the human brain space recognition systems led them to develop an algorithm that creates the illusion of walking in an unlimited space by subtle perception deviation as users walk around a small room.
"It is impossible for a person to walk in a straight line without eyesight and hearing. Now we replace the eyesight and hearing with VR to cheat your position sense so that you will feel like you're wandering in a large virtual world while actually walking around in a 50-square-meter physical space," ConfigReality explained in a statement.
To avoid long queues of users wishing to try this VR work, the exhibitor suggests visitors to sign up in advance by scanning this QR code.
The exhibition not only aims to bring the most advanced mixed reality experience to visitors, but also tries to discuss whether the space experience brought by sensory simulation and wearable technology will lead us to a better human-oriented future.
The organizers also aim to explore the potential of mixed reality, or hybrid reality, the merging of real and virtual worlds to produce new environments and visualizations where physical and digital objects co-exist and interact in real time.
Visitors can also try "Infinite Space," which uses AR photography technology. Pick up an iPad at the exhibition and let the camera face an image on the wall, then a digital ball will appear on the iPad screen. You can ask an exhibition staff member to take a photo of you together with the virtual ball.
Dates: Until Aug. 10
Hours: 10 a.m.-8:30 p.m. (Sun.-Thur.), 10 a.m.-9:30 p.m. (Fri.-Sat.)
Venue: Park View Gallery, 1/F, Design Society|Sea World Culture and Arts Center, 1187 Wanghai Road, Shekou, Nanshan District (南山区蛇口望海路1187号设计互联|海上世界文化艺术中心一楼园景展馆)
Metro: Line 2 to Sea World Station (海上世界站), Exit A