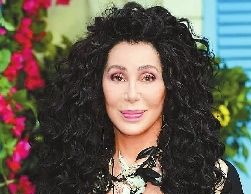 CHER has revealed that she has recorded an entire album of Abba covers, following her appearance in the jukebox musical film "Mamma Mia! Here We Go Again."
Speaking to "Today Show," the 72-year-old singer said: "After I did 'Fernando' in the film, I thought it would be fun to do an album of Abba songs, so I did! It's not what you think of when you think Abba, because I did it in a different way." No more details are yet available about the project.
Eyebrows were raised at the news that Cher was cast in the "Mamma Mia!" sequel as the mother of the character played by Meryl Streep, who is just three years Cher's junior. Cher performs "Fernando" in the film alongside Andy Garcia, who plays hotel manager Fernando Cienfuegos. Writer-director Ol Parker said that "people brought their husbands, wives, children and dogs" to watch the scene being filmed. Tom Hanks, executive producer on the film, said "we were all in awe, and a bit nervous" of the veteran actor and singer.
Speaking at the world premiere in London on Monday night, Cher explained how she got the role: "The head of Universal used to be my agent, and he called me up and said, 'You're doing Mamma Mia!' And then he hung up. It was beyond fun."(SD-Agencies)