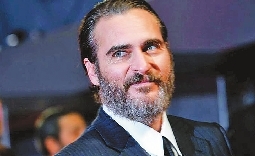 TODD PHILLIPS' stand-alone "Joker" movie, starring Joaquin Phoenix, is set to hit theaters Oct. 4, 2019, Warners and Village Roadshow said Wednesday.
The release date and title were revealed just as this year's edition of the ultimate fanboy gathering — Comic-Con — got underway in San Diego.
October 2019 boasts a slew of high-profile titles. Joker will open opposite Paramount's "Gemini Man" and Fox's "The Woman in the Window," followed a week later by Disney's "Jungle Cruise" starring Dwayne Johnson and fellow Warners title "The Goldfinch." On Nov. 1, DC and Warners will unfurl "Wonder Woman 1984."
Last month, Phoenix finalized his deal to star as the arch-nemesis of Batman. The studio describes Phillips' film as being an "exploration of a man disregarded by society that is not only a gritty character study, but also a broader cautionary tale." Phillips and Scott Silver co-wrote the script.
The budget for "Joker" is in the US$55 million range, significantly lower than the tentpoles that dominate the form. And the movie, set to begin production later this year, is meant to be darker and more experimental in tone and content, which is described as being akin to a crime drama.(SD-Agencies)