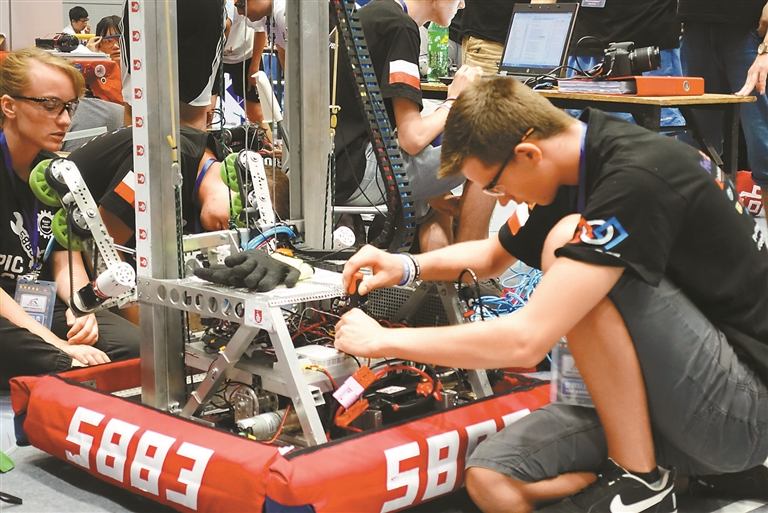 Zhang Yu
JeniZhang13@163.com
ARCADE games are not strange to many game lovers, but have you ever seen an arcade game for robots? Over the weekend, 37 teams of high school students from home and abroad gathered at the 2018 China Robotics Challenge (CRC) in Pingshan District, Shenzhen, for a robotics match that was both competitive and entertaining.
According to the rules, the 37 teams were divided into alliances. Each three-team alliance operated the robots in order to defeat the "boss" and escape the simulated arcade game scene.
Meanwhile, each alliance worked together to control the switch and the scale, collect power cubes for power-ups and finally climb the scale to enter a face-off with the "boss" in order to escape.
After rounds of fierce competition that ended yesterday, the winning alliance included Israel's Raanana & Aviv High School, Shenzhen High School of Science, and the No. 2 High School of East China Normal University. The runner-up included Israel's Misgav Community High School, the United Team of Beijing High Schools, and Suzhou Education Association for International Exchange.
"I am very happy to have participated in this competition. I think this is a very great opportunity to communicate with players from other countries and cultures," said Idan Lottem, a member of Israeli team Miscar. Lottem is a 12th-grader from Misgav Community High School in Israel.
Among the 37 teams, a team called Mulan drew a lot of attention from the audience. Mulan is China's first girls robot team. Its members are between the ages of 14 and 18, according to the organizers.
"Unlike other girls, I like designing mechanical parts. It is my happiest moment whenever the drawings on the computer become a real part of the robot. I have never felt that I couldn't or should not do some work because I am a girl," said Li Peiyu, Mulan's mechanical group leader.
Li said she hopes more girls will learn to understand robotics. "It's not a boy's privilege to build robots. Girls can also do it," she said.
"The level of the teams is much higher this year, especially the level of the Chinese teams. In addition to playing the game, the players are paying more attention to the experiences that the competition provides them," said Yin Shifei, secretary general of China Urban Youth Robotics Alliance. The contest was co-organized by the alliance and Shenzhen Industrial Design Profession Association.
According to Yin, this year's competition attracted teams from China, the United States, Israel, Turkey and Poland.
To help young Chinese people enjoy world-class robotics competitions, the alliance, a nonprofit organization, launched the CRC in 2014 and introduced the FIRST Robotics Competition (FRC) to China.
FRC is an international high school robotics competition that aims to give students real-world engineering experience.
The involvement of FRC championship teams makes the CRC a top youth robotics competition in Asia, according to the organizers.