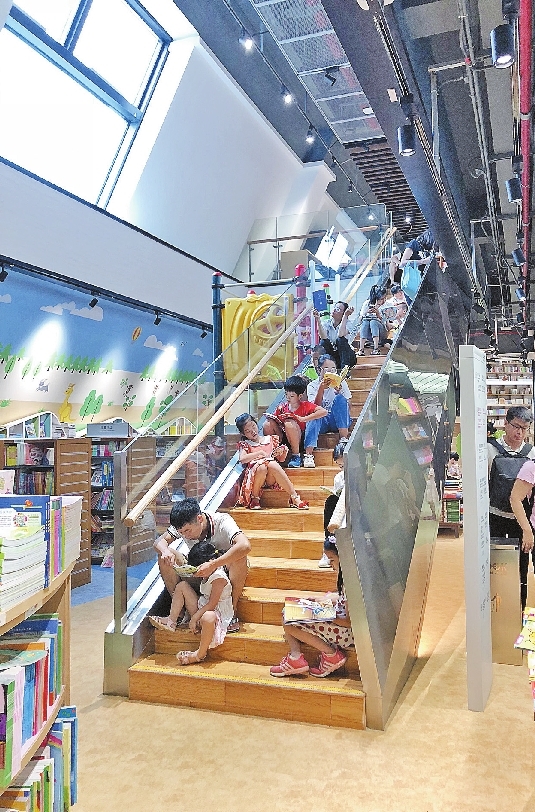 Zhang Qian
zhqcindy@163.com
ONE of the highlights of the 28th National Book Expo is the children's literature display, which features both classics and the latest books and invited some authors of children's books to give talks at the fair, attracting thousands of young readers to the fair since Thursday.
Yang Hongying, a well-known children's author, made a presentation at the fair and met with her young fans Saturday morning at Shenzhen Convention and Exhibition Center, the main venue of the fair.
Children were in long lines holding their favorite books written by Yang and waiting to get the author's autograph. "I read her books throughout my childhood, and the stories in the books influenced my childhood a lot," said a 16-year-old student, who didn't give his name.
Yang started publishing children's literature in the 1980s and became famous for her serial novels featuring campus stories and vibrant adolescent characters. Her books are popular among readers born in the 1990s, 2000s and even the 2010s.
"Reading her stories is like experiencing my own campus life at school as they are very authentic and interesting," said another girl who now attends a primary school.
Besides local readers, the book fair also appealed to readers from outside the city. A mother surnamed Yao brought her kid from Chenzhou, Hunan Province, to attend the fair.
"There aren't many opportunities like this in Shenzhen for my son to meet his favorite author, so we decided to come to Shenzhen for the fair, as well as to travel around the city during my son's summer holiday," said Yao.
At the newly opened Shenzhen Book City, Longgang Store, children can also be seen sitting on the floor reading books. The exquisite book city, as one of the five subvenues of the national book fair, also invited renowned authors to launch their new books and meet readers.
Chu Hong, a journalist from the Shenzhen Evening News, gave a lecture Thursday at the new book store on his new book, a guide to reading the Chinese classic, A Journey to the West. Dozens of children attended the lecture with their parents.
Some other authors of children's literature, including Cao Wen-xuan, Shen Shixi and Yang Peng, were also invited to give lectures at the book fair.