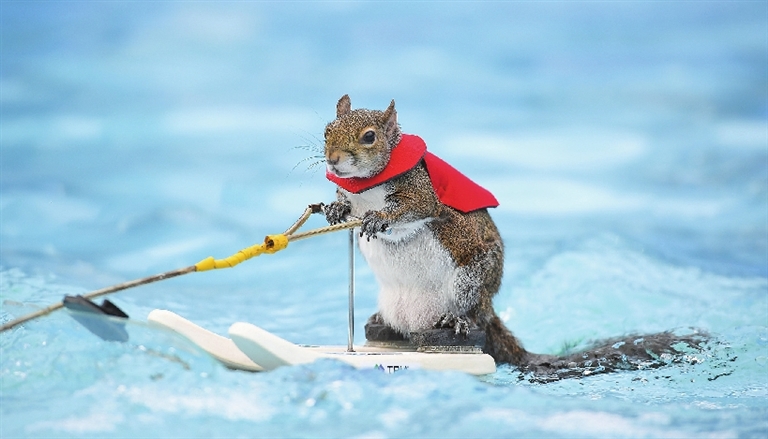 TWIGGY, the water-skiing squirrel, hopped into the water for the last time over the weekend. The lovable furry athlete has been performing outside the U.S. Bank Stadium at the X Games in Minneapolis since Thursday, and finished her farewell tour yesterday, as owner Lou Ann Best has decided to retire.
She was the event's opening act, and a popular one at that. Over 50 people gathered around a small paddling pool to watch as Twiggy mastered the waters, dressed in a miniature life jacket.
The squirrel is the eighth in a line of Twiggies going back to the late 1970s. The first show was in Minneapolis in August 1979. Now a run that has spanned 39 years, eight squirrels and even more hours of entertainment has come to an end. There's interest in buying "Twiggy," the brand, but Best won't give up her 10-year-old squirrel.
"They won't get her, she's mine," Best said. "So I'll have to get a baby squirrel and train it for them or teach them to train it."
Training a squirrel to water ski takes about a year, according to Best. Across 39 years, Best's squirrels have been featured in seven movies, one Brad Paisley music video and numerous TV shows. Twiggy only recently became an X Games fixture.
This weekend marked their third run of shows outside the X Games. "I'm retiring," Best said. "I'm 63. I took my social security. She's 10, so she's taking her social security."  
(SD-Agencies)