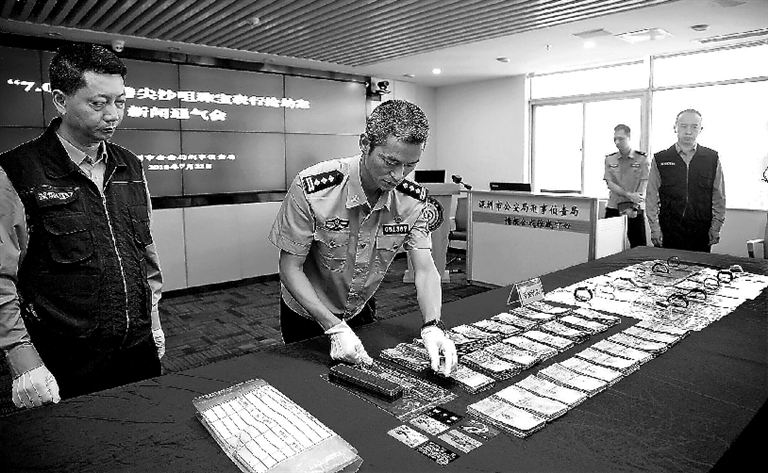 SHENZHEN police recently detained five suspects in connection with the smash-and-grab robbery in Tsim Sha Tsui on July 1. A total of 12 watches and HK$1.74 million (US$221,676) were seized, Shenzhen police said at a news conference Sunday.
In the robbery, HK$23 million worth of goods including 33 brand watches and six bracelets were stolen from the jewelry store.
Shenzhen police set up a task force after receiving a notice from Hong Kong police for a coordinated investigation.
On July 17, three suspects, Cai, Liao, both Hong Kong people, and a woman surnamed Li, a Hunan native, were caught in Longgang District. Police also seized 12 watches and HK$1.74 million from Cai's residence.
Following a clue, police arrested Huang, a Hainan native, in Luohu and Sun, a Hongkonger, in Futian District.
In Hong Kong, four suspects had been arrested after the robbery.
According to earlier reports, three men in masks, caps and raincoats robbed the jewelry shop in two minutes with knives, batons and hammers shortly after the shop opened. They escaped in a car, and one hour after the accident police found the car had been damaged in Lok Ma Chau.
Hong Kong police announced the arrest of a man in a hotel in Yuen Long on July 5 after the incident.
A 27-year-old man was suspected of driving the getaway vehicle. After the arrest, the man was taken to Tuen Mun Hospital for medical treatment for second-degree burns on his right hand and both legs, and police believed the driver accidentally injured himself while setting the getaway vehicle on fire in Lok Ma Chau. The driver was charged with conspiracy to rob and arson.
On July 6, police arrested a Hong Kong woman in Kowloon on a charge of aiding escape. And on July 9, the third suspect, an unemployed Hong Kong native, who was believed to have threatened jewelry employees with a baton during the robbery, was caught in Tin Shui Wa. On July 10, a 21-year-old suspect from a South Asian country was arrested in an apartment in Tung Chung, Hong Kong.
(Han Ximin, He Mufu)