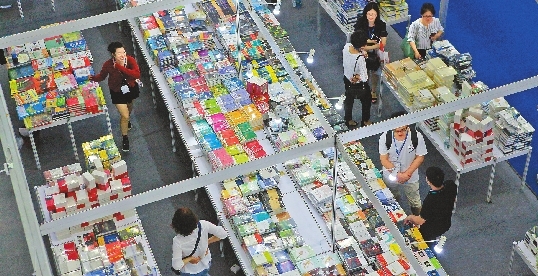 Cui Chenxin
624485709@qq.com
A TOTAL of 15 printing enterprises from across China displayed their environmentally friendly and creative products at the Green Innovation Printing Exhibition at the Shenzhen Convention and Exhibition Center in Futian District from Thursday to Saturday.
The Green Innovation Printing Exhibition, focusing on the use of creative technologies and eco-friendly materials to print books, is part of the 28th National Book Expo.
Shenzhen City Fusheng Printing Co. Ltd., located in Longhua District, had an exhibition booth showcasing a series of Peppa Pig-themed children's books, which is a cartoon that originated in the United Kingdom and has become popular in China.
According to a staffer in charge of the booth, the company prints its products on stone paper, meaning paper made from stone, as this kind of paper is environmentally friendly and hard to tear, which is good for children. The staffer also said that although the paper is made from stone, it's so soft that it won't hurt readers' hands.
A printing company from Beijing that aims to print custom books with the concept, "Make Life a Book," was also well received by visitors to the exhibition.
Customers can design their own books on an online platform and then send them to the company for printing.
A company named EASYPNP is renowned for printing didactic works and books on humanities and social sciences. According to a staffer at the company, they use soybean oil as the main ingredient in the printing ink used for presswork instead of fossil fuel based oil, which is harmful to the environment.
The 28th National Book Expo, which closed Sunday, attracted over 450,000 visitors to attend hundreds of activities about books and reading. The fair's total trading volume hit 81.12 million yuan (US$12 million) over the four days.