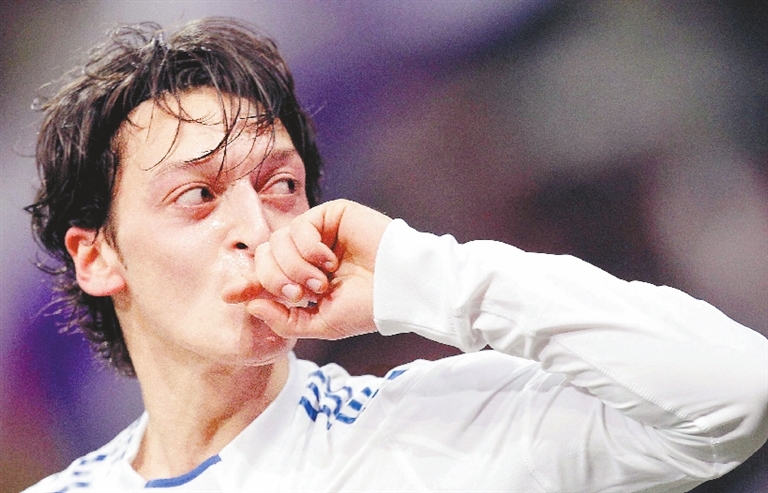 GERMAN midfielder Mesut Ozil has effectively closed the door on international soccer, citing criticism from the media and the German soccer federation (DFB) president that struck him as racist.
In a statement posted on Twitter, Ozil, a German of Turkish descent, said that he "will no longer be playing for Germany... whilst I have this feeling of racism and disrespect."
The DFB did not carry news of the playmaker's retirement on its website or social media accounts.
Ozil says he received criticism from German media after meeting Turkish President Racep Tayyip Erdogan in May in London, alongside his Germany teammate, Manchester City's Ilkay Gundogan, who is also of Turkish descent, and Turkey's Cenk Tosun, who plays for Premier League club Everton.
Erdogan was re-elected president last month following a high-stakes election campaign.
Ozil said that the meeting with the Turkish president was apolitical, that they had talked about soccer, and that he would be "disrespecting his ancestors' roots" if he had refused to meet Erdogan while he was in London. Erdogan reportedly used the images of him meeting the soccer players in his re-election campaign.
At the time, DFB president Reinhard Grindel criticized the photo op, saying that the sport and his national association "defend values that are not sufficiently respected by Erdogan," according to the DFB website.
"That's why it's not good that our international players let themselves be manipulated for his electoral campaign. In doing that, our players have certainly not helped the DFB's work on integration."
In the statement released Sunday, Ozil said that a section of the German media had "repeatedly" blamed his dual heritage and "a simple picture" — posing with Erdogan — "for a bad World Cup on behalf of an entire squad."
Germany endured a disappointing defense of its 2014 trophy in Russia, ultimately failing to make it out of the group stage of the tournament.
Ozil, who plays for Arsenal in the English Premier League and has had stints with Spanish giant Real Madrid and FC Schalke 04 in the German top division, says that the criticism makes him feel less than wholly accepted in the national squad.
"The treatment I have received from the DFB and many others makes me no longer want to wear the German national team shirt."
Despite the player being born in the country, and winning the World Cup in 2014, he says, he is "still not accepted into society. I am treated as 'different.'"
(SD-Agencies)