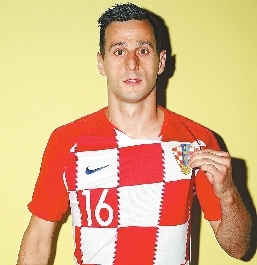 CROATIA'S Nikola Kalinic has refused a World Cup silver medal after being sent home in the group stages.
The AC Milan striker, once of Blackburn, was supposed to be vital back-up for Mario Mandzukic in Zlatko Dalic's squad but when he was called upon against Nigeria in the group stage at 2-0 up, he refused to come on.
Kalinic, 30, said he had a back injury and thus couldn't play but the coach and medical teams did not believe him and the veteran forward was sent home from the tournament.
"During the Nigeria encounter, Kalinic was supposed to come on in the second half," Dalic said at the time. "However, he then stated that he wasn't ready to come on due to a back issue. The same thing happened during the Brazil friendly in England, as well as before the practice session Sunday.
"Since I need my players fit and ready to play, I have made this decision."
Croatia went without him and overcame England to become the smallest-ever country to reach the World Cup final.
"Thanks for the medal, but I did not play in Russia," the 30-year-old is quoted as telling Sportske Novosti. Kalinic's future in Italy remains in doubt and despite returning for preseason in Milan a move to Atletico Madrid has been rumored. (SD-Agencies)