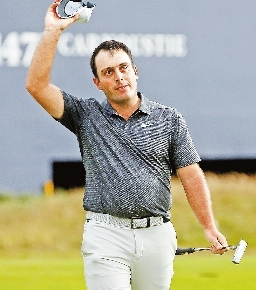 ONE of the finest leaderboards in recent golf history scratched and scuffled in the wind at Carnoustie, and in the end, the result was unexpected: a first-time major winner at the 147th British Open.
Francesco Molinari, a longtime European Tour and Ryder Cup stalwart, won the British Open with a steady diet of par-level golf, using the old maxim of keeping his head while others lost theirs. He didn't card a single hole over par after the 17th Friday, and used two decisive birdies down the stretch Sunday to hold off many of the biggest names. Molinari finished at 8-under, two shots clear of Justin Rose, Rory McIlroy, Kevin Kisner and Xander Schauffele.
The day began with tremendous, almost ridiculous promise. Would Jordan Spieth, the defending champion, hold onto the Claret jug for another year? Would a first-timer like Kevin Kisner or Xander Schauffele step up in the spotlight? And, most fascinating of all — would Tiger Woods win a major for the first time in a decade?
Early on, Woods brought back memories of majors gone by, remaining steady while player after player around him wilted, first Kisner, and then the other leaders. The key turning point came midway through the front nine, when Spieth dropped three strokes over two holes, while Schauffele dropped four strokes over three holes. At the same time, Woods stayed steady to make the turn at 2-under on the day … and that was good enough to give Woods the solo lead on a Sunday in a major for the first time in half a decade.
It wouldn't last. Woods went double bogey-bogey over the 11th and 12th holes, including a sprayed shot that bounced off a fan, and he fell two strokes off the lead, which at that point stood at -6. Molinari, Schauffele, Kisner, Kevin Chappell and Spieth all held a share of the lead, and then others started to join the party. Rory McIlroy, who at one point was six strokes off the lead, changed the equation with an eagle on the 16th, elbowing his way back up to the top of the leaderboard at 6-under and angling for his first major since 2014.
(SD-Agencies)