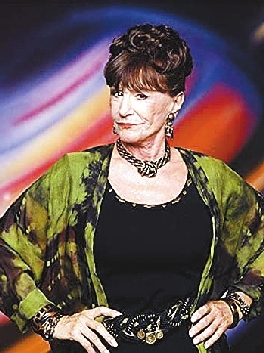 ELMARIE WENDEL, best known for her role as Mrs. Dubcek on "3rd Rock From the Sun," has died at the age of 89.
Her daughter, JC Wendel, confirmed the news on Instagram. "#ripelmariewendel you were a great mom and a bada** dame," she captioned a Variety cover honoring the show.
On the '90s sitcom, Wendel's character was known for her delightfully gaudy attire and oversexed one-liners. The show's primary location was her attic where her extraterrestrial tenants Dick, Tommy, Sally and Harry (John Lithgow, Joseph Gordon-Levitt, Kristen Johnston and French Stewart, respectively) resided.
Fellow actor Jim Beaver also honored the actress on social media following her passing. "I've just heard from her daughter JC that my friend and colleague from '3rd Rock From the Sun,' Elmarie Wendel, has died," he wrote on Twitter. "She was raucous, funny, endearing, and terribly, terribly sweet. Goodnight Mrs. Dubcek, wherever you are."
Although Wendel found stardom in '90s, she had been acting since 1961. She had appeared in several of other shows throughout her career including "Knight Rider," "The Facts of Life," "Seinfeld" and "NYPD Blue."
(SD-Agencies)