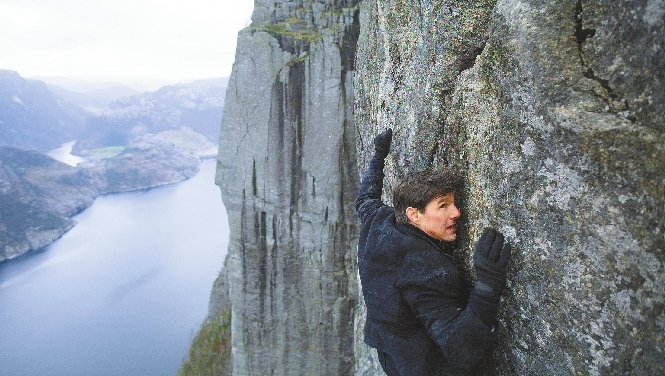 《碟中谍6:全面瓦解》
Directed by Christopher McQuarrie, this is the last "Mission: Impossible" movie that stars Tom Cruise as Ethan Hunt.
In the previous "Rogue Nation," MI6 agent Solomon Lane (Sean Harris) went over to the dark side and joined the Syndicate*, a terrorist organization bent on the idea that the status quo must be destroyed before a new world order can spring up. Lane's possession of three small plutonium* bombs and his intention to use them trigger all the action.
In an opening sequence, Cruise's Ethan Hunt and his buddy Benji (Simon Pegg) try to steal the caps in Berlin, but the failed operation makes Angela Bassett's CIA director angry and forces Ethan and helpmate Luther (Ving Rhames) to be watched by a sidekick*, August Walker (Henry Cavill), whose relationship with Ethan is as uneasy as his real intentions are unclear.
An even more ambiguous* figure is the "White Widow," a wealthy philanthropist* and apparent part-time arms dealer played by Vanessa Kirby. Needing to get to Paris in a hurry to see her at a giant party, Ethan and August jump from a high-flying jet transport to a low altitude before opening their chutes and landing directly on the Grand Palais.
In short order, they mix with some of the Widow's goons* in an action scene in a large men's room before Ethan starts negotiating* with the Widow.
As the narrative becomes more complex — realistic masks conceal true identities, characters' actual agendas remain hidden — the fast-moving spectacle unfolds in extraordinary fashion.
After Paris, these characters move on to London, where Rebecca Ferguson's former MI6 agent from "Rogue Nation," Ilsa Faust, steps more to the fore, with intentions that muddy the waters even further. To figure out who's on what side and why and what they're all trying to do becomes an impossible mission of its own after a point.
Finally, the journey's end brings everyone to Kashmir, which the still-living Solomon Lane has determined will be the best place to launch the destruction to trigger the eradication* of this world and the birth of the new.