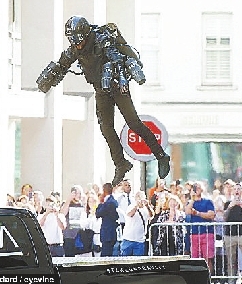 英国销售"钢铁侠"套装
An "Iron Man" jet suit has gone on sale in a London department store with a cool price tag of US$443,428.
Inventor Richard Browning has taken it on demonstrations around the world and took flight above a street outside luxury department store Selfridges in London last week. The store is now selling customized* versions of the suit.
"The jet suit is the equivalent to the launch of the very first aeroplane," said Bosse Myhr, menswear and technology director at Selfridges. "We are on the cusp of an era where aeronautical technology can finally be in the hands of the consumer and we are proud to be the first to offer this."
Made up of five miniature jet engines mounted on the pilot's arms and back, the suit by Gravity Industries is reminiscent of the one worn by Robert Downey Jr. as Marvel superhero "Iron Man."
The suit is also integrated with electronics and 3D-printed parts. Running on jet fuel or diesel, it has a speed record of 51 kilometers per hour and altitude limit of 3,658 meters.
"You can fly for three or four minutes quite easily and we have got another version. Certainly on a cold day when you get more thrust*, it'll fly for about nine minutes," Browning said.(SD-Agencies)