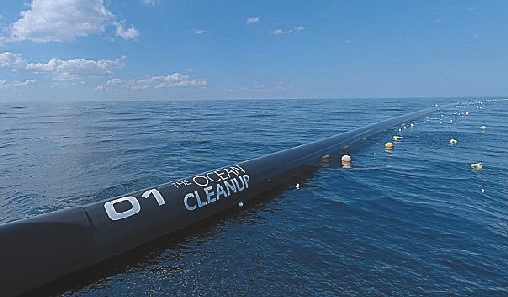 巨型"吃豆人"将清理海洋垃圾
Researchers have revealed the final design of a 600-meter plastic sweeper, which will clean up the notorious floating Great Garbage Patch* in the Pacific Ocean.
The gigantic "Pac-Man" system consists of a 600-meter-long floating tube that sits on the surface of the water, with a tapered* 3-meter-deep skirt attached below to catch plastic waste. It harnesses* the power of wind and surface waves to autonomously* sweep through the area, gathering up plastic waste as it goes.
Plastic waste collected by the system will be hauled away by a vessel every few months and taken to land to be recycled.
"Models show that a full-scale cleanup system could clean 50 percent of the Great Pacific Garbage Patch in just five years," according to Ocean Cleanup Project.
"After fleets of systems are deployed into every ocean gyre*, combined with source reduction*, the Ocean Cleanup projects to be able to remove 90 percent of ocean plastic by 2040."
The system is designed to capture plastics ranging from small pieces just millimeters in size, up to large debris, including massive discarded fishing nets, which can be tens of meters wide.
"A screen is the part of the system that is meant to concentrate the subsurface plastic against the floaters," Ocean Cleanup explains.
"It also plays an important role in the drifting behavior of the system once it is fully deployed to freely move on the currents and the wind."(SD-Agencies)