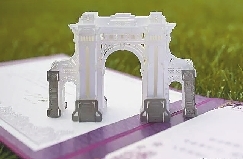 激光切割的录取通知书出炉
Tsinghua University recently posted their 2018 acceptance letter online, which includes a sculpture of the university's Old Gate.
This art work, made by faculty and students at Tsinghua, contains more than 30 components and over 100 interlocking structures created using laser-cutting* technology. As the candidate opens the letter, the sculpture pops out from the page.
The Old Gate is a three-arch monument with three characters (清华园 Tsinghua Campus) inscribed on the lintel*, written by Natong, a famous scholar from the Qing Dynasty (1644-1911). It was built in 1909 and has become a landmark of Tsinghua University.
"This acceptance letter with a sculpture of the Old Gate shows the elegance and solemnity of the campus throughout history and also carries the meanings of inspiration, wisdom, youth and the future," said the Tsinghua University Admission Office.(SD-Agencies)