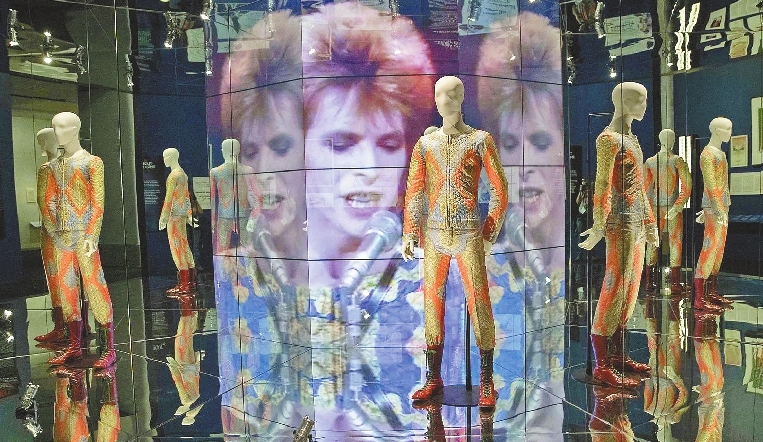 通过增强现实,你可以"穿"大卫·鲍伊的衣服
Sony Music Entertainment, the David Bowie Archive, Planeta and the Victoria and Albert Museum have launched a digital recreation of the "David Bowie Is" exhibit that brings an augmented reality* and virtual reality* experience to your smartphone.
In what the parties describe as a first-of-its-kind experience, they've crafted a series of audio-visual* spaces where viewers can witness the work and artifacts* of Bowie's life.
"It will present his fabulous costumes and treasured objects in meticulous* detail," according to a release on the official David Bowie site. "The experience may even allow a spectator to virtually step into one of Bowie's outfits and see themselves in it."
Sony will be releasing the "David Bowie Is Virtual" digital exhibit this fall. The app is available for both iOS and Android users, supporting ARKit and ARCore.
It's unclear how much the exhibit will cost, but some of the proceeds from ticket sales will go to the Victoria and Albert Museum in London, as well as the Brooklyn Museum.
The "David Bowie Is" exhibit toured across 12 different cities over the past six years, ending its run at New York City's Brooklyn Museum on July 15.
"David Bowie Is" included stage costumes, instruments, original set lists, set designs, diary entries and other personal items.
"David Bowie Is Virtual" comes after The New York Times launched an augmented reality app based around the rock star's visual legacy. It projected life-size versions of Bowie's costumes into your surroundings that allowed users to interact with them, by getting up close to see details.(SD-Agencies)