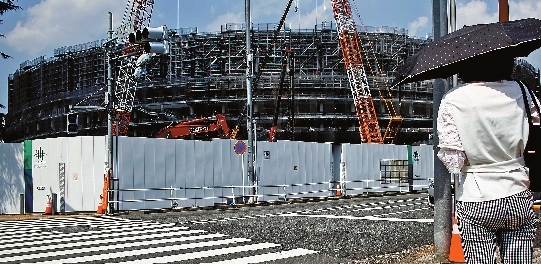 CONSTRUCTION delays at two key Olympic venues could force Tokyo Games organizers into a reshuffle of test event schedules, the organizing committee said yesterday.
The Olympics Aquatics Center, which will host swimming and diving events as well as the Sea Forest Waterway, venue for the rowing and canoeing events in 2020, were two months behind schedule, according to organizers.
Both venues will be completed well before the Games' opening ceremony July 24, 2020, but organizers may have to shift test events to allow for the delays.
"We have been informed that the two venues have delays compared to the original schedule," said Tokyo 2020 spokesman Masa Takaya.
"We are working closely with the Tokyo Metropolitan Government (TMG) and the respective federations to be able to sort out and possibly modify the test event schedule.
"Other than that, the schedules on the permanent venues are absolutely right on track."
Tokyo 2020 organizers released a progress report yesterday that said the Aquatics Center would not be finished until Feb. 2020, the latest of any of the new permanent venues.
The Sea Forest Waterway will be pushed back to May, 2019, when it had previously been earmarked for completion by March.
With the first test events planned for mid-2019, organizers are hopeful the majority of venues will be ready to host many of the international federations and athletes that will descend on the Japanese capital in 2020.(SD-Agencies)