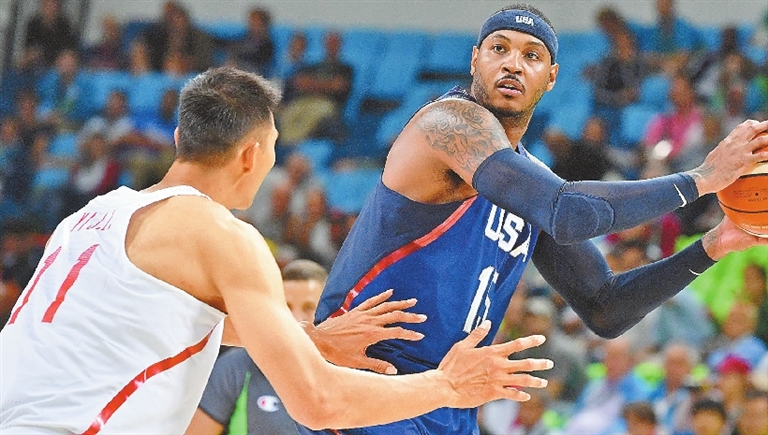 THE Houston Rockets will sign veteran NBA forward Carmelo Anthony, Marc Stein of the New York Times reported Monday.
Anthony spent last season with the Oklahoma City Thunder after being traded from the New York Knicks. On July 19, the Thunder traded Anthony to the Atlanta Hawks in a three-team deal, and then Atlanta eventually waived him so he could hit the open market.
According to the report, Anthony's free agency won't happen before next week while the trade to the Hawks becomes official.
The 34-year-old Anthony opted into a US$27.9 million option earlier in the offseason.
Oklahoma City explored trade possibilities with Anthony where he would be sent as an expiring contract and have his deal waived so he could hit free agency, according to ESPN.com's Adrian Wojnarowski. This route relied on Anthony waiving his no-trade clause, which Wojnarowski reported Anthony agreed to do to facilitate his exit.
Wojnarowski also reported that before the trade, Oklahoma City allowed Anthony the chance to meet with perspective teams during the NBA Summer League in Las Vegas, and he met with the Rockets and Heat.
The 10-time All-Star averaged a career-low 16.2 points a game and shot 40.4 percent from the floor, also the lowest in his career. Anthony can provide a steady third scoring option for the explosive Houston offense, led by NBA MVP James Harden and perennial All–Star point guard Chris Paul.
In 15 seasons, Anthony has averaged 24.1 points a game, but has only reached the conference finals once in his career.
Speaking to media, Harden said that he felt like Anthony was a good pick up for the team that gave the Golden State Warriors a run in the Western Conference Finals before losing Chris Paul to injury.
"It would be a great acquisition for us," said Harden, who did run into Anthony at Paris Fashion Week last month when Harden was making the rounds with teammate P.J. Tucker. "Melo's a proven vet. He just wants to win at this point, so it would be great for him to be on our team. The current roster we have now, we've got good guys back and we keep making forward progress."
It's not clear how Carmelo will integrate into Houston's offense just yet. The Rockets lost Trevor Ariza to the Phoenix Suns this summer, and will need more 3-point shooting outside of Eric Gordon. Anthony shot 35.7 percent from 3-point range last season, which is just about league average.
Even in an offense with a lot of isolation sets, Carmelo isn't a home run. People make the mistake of thinking that the Rockets simply dribble the ball down the floor then go one-on-one. That's not really the case.
The Rockets were 13th in the NBA in pace last year, and scored a league-leading 1.2 points per possession in transition.
Their isolation sets were additive to their transition offense, and even then a lot of their iso ball sets were designed to create assists on mismatches.
Anthony has shown the ability to be a good passer over his time in the NBA, although last season with the Thunder he recorded a career-low two assists per 100 possessions. Many of his isolation plays are geared toward Anthony getting a shot up for himself, so whether Mike D'Antoni can convince him to work within the system is a big question.
(SD-Agencies)