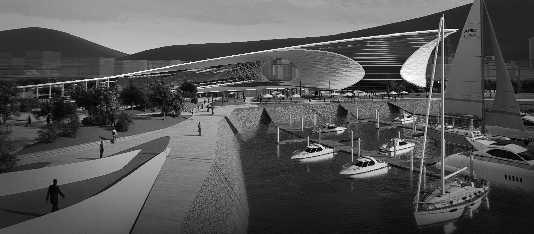 WITH an approximate investment of 900 million yuan (US$132.82 million), a seashore culture and sports center is expected to be built in Baguang of Dapeng New Area, mirroring the advanced infrastructure in Qianhai of western Shenzhen, according to the Shenzhen Economic Daily.
Construction on the new culture and sports center, also dubbed "the Eye of Baguang," will start in October and be finished before August 2020, the Dapeng construction bureau announced Tuesday.
The culture and sports center will be built only 20 meters away from Baguang Bay, making it the waterfront center closest to the sea in Shenzhen.
The Baguang area, covering 31.9 square kilometers, and equal to the size of two Qianhai areas and three Shenzhen Hi-Tech Industrial Parks, is a promising zone for the city.
In November 2013, the city government decided to construct an international biology valley in eastern Shenzhen, covering Dapeng, Pingshan and Yantian.
The to-be-built center is situated in the central region of Baguang with the three main features being a culture center, a central park and a sports center, according to the bureau.
Featuring an array of design elements, such as DNA chains, sea waves and other traditional cultural icons, the center is expected to be a window for the world to learn more about the Baguang area and a hub for the development of the biology industries.
The center will mainly provide culture and sports facilities for talents working in the international biology valley.
The sports center will have a 650-meter track with a sea view and a 400-meter inner track. There are also various tracks for different kinds of running training.
Since the center is only 20 meters away from the bay, resiliency against typhoons is of great importance. Designers of the center said that special structures and materials will be used to ensure the center's stability in strong winds.
(Zhang Qian)