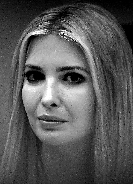 IVANKA TRUMP, the U.S. president's daughter, is pulling the plug on Ivanka Trump, the purveyor of women's fashion.
After a year and a half of sporadic controversy over potential conflicts of interest, Trump, a White House adviser, said Tuesday that she would wind down the company. She made the decision after some big-name department stores dropped her brand, but said in an emailed statement that she did it as a mercy to her employees.
"I do not know when or if I will ever return to the business, but I do know that my focus for the foreseeable future will be the work I am doing here in Washington, so making this decision now is the only fair outcome for my team and partners," Trump said in an emailed statement.
The brand depended on Ivanka Trump as a symbol of aspiration and possibility, selling dresses, shoes and accessories meant to signal confidence without pushing fashion's envelope. But politics brought scrutiny. Most of her products were made overseas even as Donald Trump decried outsourcing and threw up tariffs meant to keep jobs at home.
Trump launched her fine jewelry brand in 2007, adding footwear in 2010 and handbags the following year. The company expanded into apparel in 2013 and outerwear, eyewear and fragrances one year later. By 2016, there was denim, activewear, fashion jewelry and even baby bedding. Much was made by Marc Fisher Footwear and G-III Apparel Group Ltd.
In March 2017, Trump was named an adviser to the president, taking no salary and leaving the business in the hands of a caretaker. According to her public Facebook page, she focuses on "job creation, economic empowerment, workforce development and entrepreneurship." (SD-Agencies)