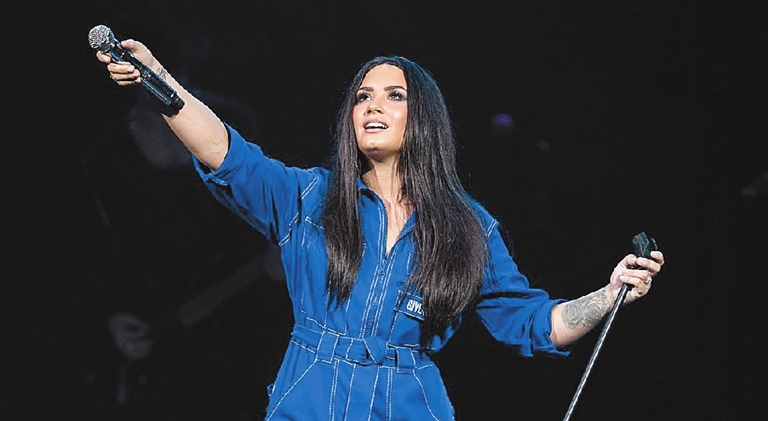 SINGER Demi Lovato is awake and with her family after being hospitalized earlier Tuesday, according to a statement from the singer's representative.
A source close to Lovato's family previously revealed the singer's hospitalization was the result of an apparent drug overdose.
"Demi is awake and with her family, who want to express thanks to everyone for the love, prayers and support," said the statement from Lovato's representative. "Some of the information being reported is incorrect and they respectfully ask for privacy and not speculation as her health and recovery is the most important thing right now."
A senior law enforcement official said that Lovato is at Cedars-Sinai Medical Center in Los Angeles. She is stable, conscious and breathing, the official said.
Lovato's hospitalization Tuesday came just weeks after the singer, who has struggled with substance abuse, revealed she had recently suffered a relapse.
The pop star made the revelation about the setback in a single, "Sober," released late last month.
Lovato, who turns 26 next month, said in March that she was celebrating six years of sobriety.
The singer has spoken candidly in interviews about her use of cocaine and addiction to alcohol, as well as mental health issues and an eating disorder.
"I'm sorry for the fans I lost who watched me fall again," Lovato sings in "Sober." "I want to be a role model but I'm only human."
The lyrics also include Lovato singing, "I'm sorry that I'm here again. I promise I'll get help."
Lovato was supposed to appear on the Tuesday night episode of the Fox game show "Beat Shazam," which is hosted by Jamie Foxx, but a network spokesperson said the show would air a different episode in its place "in light of recent reports."
Lovato taped her guest appearance on the show in December 2017.
"Our thoughts go out to Demi and her family," Fox said in a statement.
Lovato was next scheduled to perform Thursday in Atlantic City, New Jersey, but her appearance has been canceled.
Lovato got her start in entertainment at age 10 as a regular on the children's series "Barney & Friends."
That led to guest roles on TV shows like "Prison Break" and "Just Jordan," followed by Disney Channel's "As the Bell Rings."
Lovato's role as aspiring singer Mitchie Torres in the Disney TV movie "Camp Rock" introduced the world to her musical talent. Her debut album, the pop-rock "Don't Forget," was released in 2008.
As a regular on the Disney series "Sonny With a Chance," Lovato became one of the network's brightest young stars.
Her second album, "Here We Go Again," was released in 2009.
After three seasons on "Sonny With a Chance," Lovato announced she was leaving the show to focus on recording and her third album, "Unbroken."
Lovato released a self-titled album, "Demi," in 2013. Her albums "Confident," which earned her a Grammy nomination, and "Tell Me You Love Me" followed.
Her hits like "Skyscraper," "This Is Me" (a duet with ex-boyfriend Joe Jonas) and "Sorry Not Sorry" firmly established Lovato as a pop superstar.
(SD-Agencies)