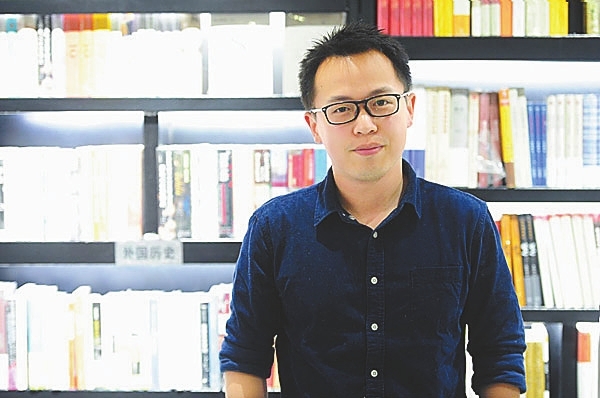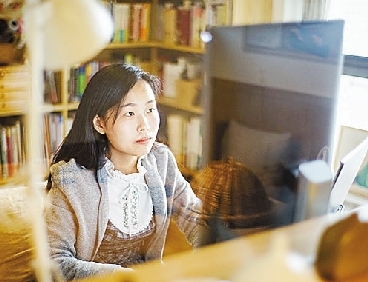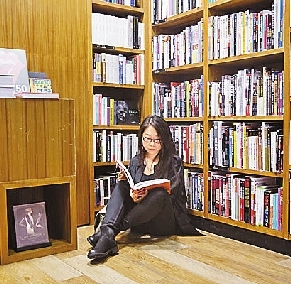 AT 7 a.m., He Yujia, a 32-year-old freelancer from Chengdu, Southwest China's Sichuan Province, gets out of bed. She immediately goes to her study, and sits in her Okamura chair to translate a book for two hours before breakfast, and after that, for another six to 12 hours.
Earlier this year, three of her translations were published: the first volume of "The Years of Lyndon Johnson: The Path to Power" by Robert Heinlein; "Shark's Fin and Sichuan Pepper" by Fuchsia Dunlop and Michael Bird's "Vincent's Starry Night and Other Stories." She is now working on the second volume of Johnson's biography.
At 7:30 a.m., Chen Yikan, a 33-year-old book reviewer and translator from Jiashan, East China's Zhejiang Province, is woken up by his 3-year-old son. After feeding him and changing his diaper, he quickly grabs his bag and walks out. In a nearby cafe, he orders breakfast as he takes out his laptop, books and electronic dictionary before starting on six to eight hours' work.
Chen returns home at 5:30 p.m. to spend the evening with his son. He is currently working on Somerest Maugham's "Collected Short Stories: Volume 3," after translating the previous two editions. His translation of Edward Aubyn's "Dunbar: A Novel" is due to be published in August.
At 8:30 a.m., Zhang Yujia, a 32-year-old freelance translator from Guangzhou, Guangdong Province, begins her work day. Unlike He and Chen, she prefers to keep flexible working hours and often works until midnight.
She has been translating reviews and books on films since 2004 in her spare time. She became a full-time translator in April this year when she finished translating HG Wells' "A Slip Under the Microscope." She is currently working on a children's book.
In 2016, China published over 23,000 book titles from overseas, compared to 8,200 titles in 2012, recent data shows.
As early as the Tang Dynasty (618-907), Chinese monk Xuanzang translated Buddhist classics from Sanskrit into Chinese, helping to promote Buddhism in ancient China. But translations did not really take off until the late Qing Dynasty (1644-1911), when patriotic Chinese scholars and officials sought to save China from imperial interference from countries like Britain and Japan, which were much more advanced in terms of science, technology and social development, through translation.
Over the last century, generations of translators have contributed enormously to the advancement of China's culture, society, economy, politics, science and technology.
"You have to know about others before you can really understand yourself," says Teng Jia-wan, a literature translator from Taiwan.
For Chen Yikan, an important driving force for a nation's development is to embrace ideas from foreign cultures, and encourage people to explore new territory.
"The history of fiction is a process in which different cultures are stimulated by translations. Without translation, modern novels couldn't have developed in such a way," says Chen.
Chinese novelist A Yi says that reading translations of foreign literature has helped him develop his style. His favorite translated works include Fan Ye's version of "One Hundred Years of Solitude" by Gabriel Garcia Marquez, and Li Wenjun's interpretation of William Faulkner's "Absalom, Absalom!"
"I didn't start looking for nutrition from ancient Chinese literature until relatively recently. Foreign literature offers me a way to measure how far my writing has progressed," says A Yi.
Contemporary topics
"China is a country that translates literature from many different languages and countries to a high standard, including work from the Americas, Australia, Japan, India, and Europe, and even from countries with a small population like Iceland," says A Yi. "But comparatively, Chinese literature has not been translated as much into other languages."
Yet the identities of these translators remain invisible to readers, as the names of the authors and titles take precedence. Notoriously underpaid, many of today's translators suffer from backache, neck pain and even depression after years of struggle with the written word.
Dan Hansong, a professor of English at Nanjing University, recently said that it would take at least seven years to translate Thomas Pynchon's postmodernist works "Against the Day" or "Mason & Dixon."
"If you have never read Pynchon, you may not know that Pynchon has reached the extremities of the human thought process. His books are not just works of literature, but cover politics, history, chemistry and mathematics within their magnificent, epic structures."
When he agreed to translate Pynchon's "Inherent Vice," Dan said he knew his fee would be low but he wanted to demonstrate that he was one of the few people around who could "understand each sentence of that novel."
"Sales were poor — just a few thousand copies. All the others were pulped," he said.
In terms of fees, a translator in the Chinese mainland normally receives 70-100 yuan (US$10-14.8) for every 1,000 English words.
But despite the anonymity and low pay, these keen translators are grateful "to be paid for reading and learning" as Zhang puts it, and "eager to share with more people the happiness they gain from reading." As their talent glitters in the text, sooner or later, Zhang says, they will get their due recognition.
In May, Teng Jia-wan met with Dan and Fan at a translators forum in Nanjing, Jiangsu Province.
And she says that when she was asked if she wanted to produce the sixth Chinese version of "The Lord of the Rings," she set out to create a translation that was worthy of the original.
"For people who speak other languages and are able to read the Chinese version, they will find it just as splendid as any of the other versions," she says.
Many translators share that sense of mission, but He Yujia confesses she is not one of them. "For me, translation is an enjoyable process. I don't think I am particularly underpaid because my job is not as exhausting as working in finance," she says.
Zhang says that translating great writers is an interesting learning process. She feels a sense of satisfaction when her film reviews appear on Douban, a popular Chinese review site.
Chen may find translation work more onerous but it's a process that provides him with a learning curve and a structured work schedule.
"Compared with writing, in translation, you never find you wake up worrying that you won't be able to write a single word that day. Working for six to eight hours each day, you know that after a few months you will see your translation published. I find that reassuring," he says.
Sharing their experiences
As the Chinese public have become increasingly willing to pay for knowledge, the literary world has begun to embrace the rise of star translators as a way to promote new titles.
Having recently completed a tour of cities like Suzhou, Chengdu and Changsha for his book "Collected Short Stories: Volume 2," Chen says he "gained a lot from these fresh experiences."
"It's great to share with readers as a reviewer rather than as a translator on these occasions," he says.
Separately, He says, "Translators tend to have a deeper understanding of the work than most readers due to the amount of research they had to undertake to perfect every word."
She says that though she read "The Old Man and the Sea" many times, it was not until she read an introduction by Wu Lao, one of her favorite translators, that she realized how good the book was.
"They (good translators) help the readers to understand the works more easily," He says. "And if the books sell well with the help of a charming translator, it will also help to improve translator's incomes."
"If people gain a better insight into our work they will probably discuss our translations more fairly," she says.
"Some readers use terrible language to criticize translators online, which is unfair. This leaves many translators feeling a sense of frustration," He says, adding that she has been translating books for eight years after having broken her leg during a car accident.
"Not long ago, my husband didn't think translation could be a lifelong career for me, even though I'd been telling him for years that I loved my job. And until recently, neither my husband nor my mother considered translation as a serious profession, as did many other people," she says.
Meanwhile, earlier this year, He applied to a study program in the United States using a reference from Michael Mayer, whose books "The Last Days of Beijing" and "In Manchuria" she translated.
"They (the U.S. authorities) asked me why I chose such an invisible profession. So, I explained the reasons and why it still left me a little depressed. If translators appear more often in public, maybe people will have a better understanding of them," she says.
(China Daily)