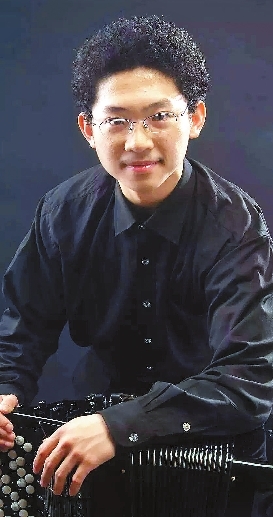 Chinese bayan player Xu Xiaonan will collaborate with pianist Xu Gehui to present Bach's "The Well-Tempered Clavier No. 22, Book 1, BWV 867," Liszt's "Feux Follets," "Hungarian Rhapsody No. 2" and "Der Erlkonig," Anderson's "Carmen Fantasy," Frank's "Prelude, Fugue, Variation," Schostakovich's "Concertino," Piazzolla's "Verano Porteno" and Chinese folk pieces at Shenzhen Grand Theater.
The bayan is a type of chromatic button accordion developed in Russia in the early 20th century and named after the 11th-century bard Boyan.
Xu Xiaonan now teaches at the Central Conservatory of Music in Beijing while pursuing his doctoral degree in the conservatory. A graduate from Hanover University of Music, Drama and Media in Germany, Xu Gehui now teaches at the middle school affiliated to the Central Conservatory of Music.
Audience members can claim free tickets at Shenzhen Grand Theater's box office at 9:30 a.m. July 27.
Time: 3 p.m., July 28
Venue: Shenzhen Grand Theater, 5018 Shennan Road East, Luohu District (罗湖区深南东路5018号深圳大剧院)
Metro: Line 1 or 2 to Grand Theater Station (大剧院站), Exit B(Cao Zhen)