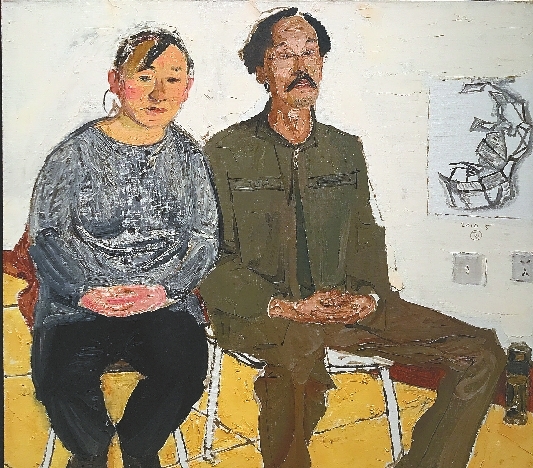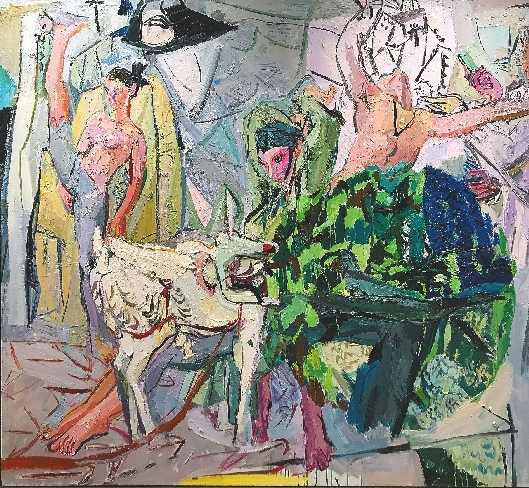 Cao Zhen
caozhen0806@126.com
About 100 oil paintings created by 87 Chinese artists are on display at the "Cultural Inheritance: 2018 Annual Exhibition of Chinese Freehand Oil Painting" exhibition at Guan Shanyue Art Museum.
"Chinese painters have an attachment to 'homeland,' which is the theme of this exhibition," said Chen Xiangbo, director of Guan Shanyue Art Museum. "We invited the artists to paint our current lives and a spiritual homeland."
Freehand is a distinct Chinese painting style commonly seen in ink and watercolor paintings. This style focuses on the imagery and charm of a painting, regardless of subjects, objects or brush strokes. "In Chinese art, freehand represents a fusion of humans and nature, self and the world. Therefore, freehand is not only a technique, but also an artistic spirit and notion," said Fan Di'an, president of Central Academy of Fine Arts in Beijing, who curated the exhibition.
Renmin University professor Yan Ping's "Autumn Wind" portrays Beijing opera performers making up and practicing backstage. Her strokes are powerful, clean-cut and decisive. With distorted objects, the painting has Expressionism trait with Chinese scenes.
Central Academy of Fine Arts professor Dai Shihe uses both knife-sweeping strokes and refined strokes in his "A Couple's Fine Art Class," which achieves a variety of effects.
Dates: Until Aug. 22
Venue: Guan Shanyue Art Museum, 6026 Hongli Road, Futian District (福田区红荔路6026号关山月美术馆)
Metro: Line 3 or 4 to Children's Palace Station (少年宫站), Exit B
Meanwhile, the "Shenzhen Freehand Oil Painting Tour" exhibition at Dafen Art Museum is displaying more than oil paintings created by Shenzhen artists to demonstrate the latest achievements in freehand oil painting in Shenzhen.
Dates: Until Oct. 28
Venue: Dafen Art Museum, Dafen Oil Painting Village, Buji, Longgang District (龙岗区布吉大芬油画村大芬美术馆)
Metro: Line 3 to Dafen Station (大芬站), Exit A1