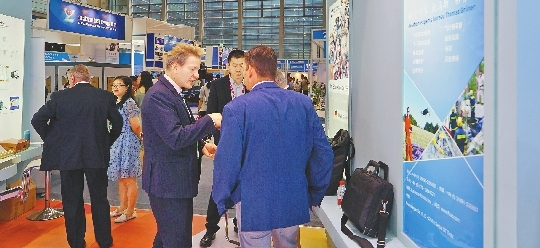 ONE of the most distinctive display areas of the 2018 Bao'an Industry Development Expo, the exhibition showcasing the achievements of the cooperation between Bao'an District and Germany attracted many businesspeople and other visitors to Shenzhen Convention and Exhibition Center from Thursday to Saturday.
The display area was aimed at building a platform for technological innovation and industrial collaboration between China and Germany, as well as promoting in-depth exchanges between Chinese enterprises and their German counterparts.
Located in Hall 1, the exhibition area covered 360 square meters and gathered more than 30 well-known enterprises and business associations, such as Lufthansa Technik Shenzhen, Severin Household Electric Appliances (Shenzhen) Ltd. and the Association of German Chambers of Commerce and Industry.
With interactive LED screens and projectors, the area also demonstrated the history of the cooperation between Bao'an and Germany. In addition, it displayed the strategic planning and construction of the China-German (Europe) Industrial Model Park, which was a significant move undertaken by Bao'an to help Chinese small and medium-sized enterprises adopt German technologies.
As a traditional manufacturing hub in Shenzhen, Bao'an has enhanced collaboration and exchanges with Germany in recent years, ushering in a new round of industrial transformation and upgrade for its industries.
The cooperation between Bao'an and Germany is highly complementary and can be developed into a more extensive partnership, said an analyst. The annual expo unleashes more possibilities for Bao'an and Germany in terms of industrial integration and upgrading.
Industrial cooperation between Bao'an and Germany dates back to 2001 when Lufthansa Technik Shenzhen was established in the district by Deutsche Lufthansa AG.
In May, German Chancellor Angela Merkel visited Shenzhen, delivering a stronger signal for the collaboration between China and Germany in the fields of technology, cooperative projects and talents.
Bao'an's foreign trade with Germany in 2017 amounted to US$1.501 billion, of which exports and imports accounted for US$1.056 billion and US$445 million, respectively. (Zhang Yu)