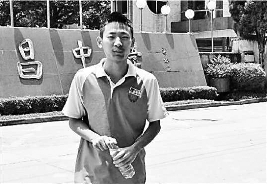 NETIZENS raised 800,000 yuan (US$117,000) in just three hours for a top performer on China's college entrance exam, the Gaokao, who has been diagnosed with leukemia, reports chinanews.com.
Zheng Ye, an 18-year-old in Lishui City in East China's Zhejiang Province, scored 694 out of a possible 750 in this year's test, making him the city's best performer.
After being admitted to Chu Kochen Honors College at Zhejiang University, Zheng was diagnosed with leukemia. The treatment requires a bone marrow transplant that could cost the family about 1 million yuan .
Zheng's family was already struggling financially as a result of the sudden death of his father nine years ago from a cerebral aneurysm. After hearing the news of the son's illness, his father's former colleagues launched a fundraising campaign for Zheng Ye on Thursday. Much to their surprise, they raised 800 thousand yuan in just three hours. And the construction company Zhongtian Group has promised to subsidize Zheng Ye's study at Zhejiang University.
Officials with the Chu Kochen Honors College at Zhejiang University said the university would follow the advice of doctors and take Zheng Ye's health into consideration when it comes to deciding whether to reserve his place until after his treatment, or to provide him with a tailored curriculum.  (CRI)