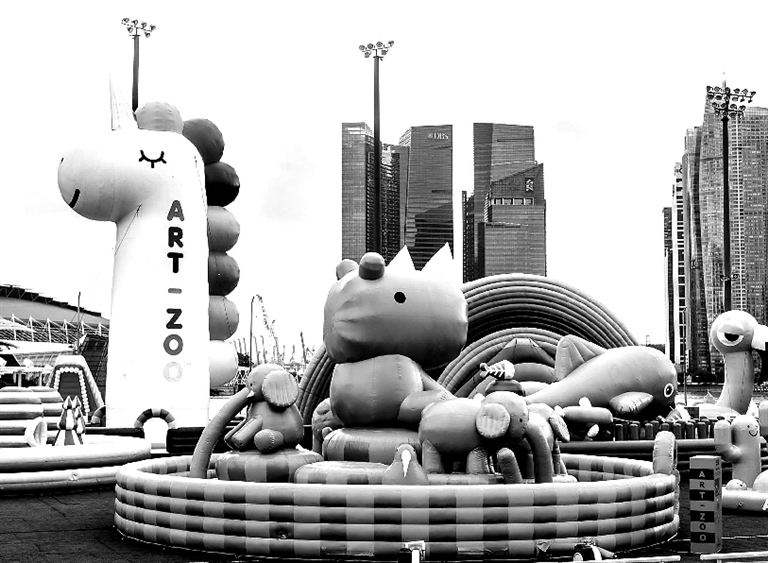 Art-Zoo Inflatable Park is roving its way to Shenzhen now, giving Shenzheners the chance to make grand memories together this summer.
Art-Zoo creates an imaginative landscape that celebrates nature through the perspective of art. It stirs up curiosity and wonder in viewers of all ages.
Both highly relatable and educational, Art-Zoo adopts a visually appealing approach to creatively linking the letters with animals. Simple shapes and iconic patterns are used to form recognizable silhouettes of animals and plants that represent the alphabet from A to Z. The idea behind Art-Zoo came from a desire to bring to life childhood fantasies. The inspiration behind it includes fond memories of visits to zoos, playtimes at animal-themed playgrounds, as well as children's shows.
Art-Zoo Inflatable Park was first launched in Singapore as part of the iLight Marina Bay festival in March 2017, which showcased the large-scale creative installation within urban city space. The inflatables occupied a significant venue area of more than 9,000 square meters, creating a colorful and interactive playground set against the iconic city skyline of Marina Bay area. By adding a twist in bringing the zoo to the city, the interactive art installations allow visitors to learn about nature in a fun and engaging way.
The concept of Art-Zoo was created by Singaporean artist, designer and curator Jackson Tan and designed together with the team at his creative studio BLACK.
Dates: Until Aug. 8
Hours: 5-10 p.m. (weekdays), 3:30-10 p.m. (weekends)
Tickets: 118 yuan (1 person on weekdays), 148 yuan (1 person on weekends), 218 yuan (2 persons on weekdays), 268 yuan (2 persons on weekends), 298 yuan (3 persons including at least 1 kid on weekdays), 368 yuan (3 persons including at least 1 kid on weekends)
Venue: East Plaza of Shenzhen Bay Sports Center, 3001 Binhai Boulevard, Nanshan District (南山区滨海大道3001号深圳湾体育中心东广场)
Metro: Line 2 to Keyuan Station (科苑站), Exit A
(SD News)