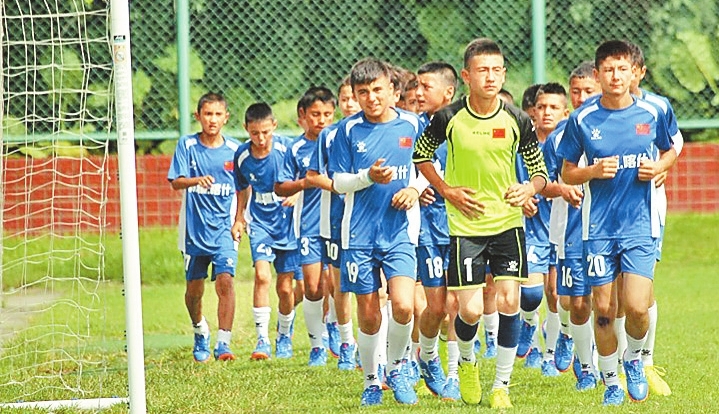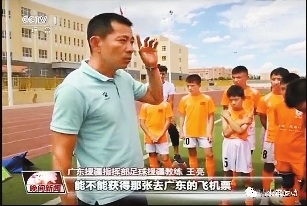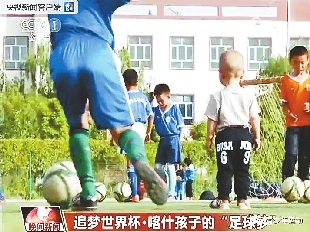 INVITED by Guangdong Provincial Football Sports Center, a soccer team consisting of primary school students from Shufu County, Kashgar, Xinjiang Uyghur Autonomous Region has recently traveled thousands of kilometers from their hometown to start a two-week soccer training program in Guangdong Province.
The program, which is part of Guangdong's counterpart aid to Xinjiang for overcoming poverty, aims to broaden Kashgar children's horizons, realize their dreams of having a bigger stage on which to play soccer and help raise the level of Xinjiang's soccer expertise.
In fact, soccer already enjoys a long history in Xinjiang, and the passion stirred by soccer in China's far northeast is no less than that of any other part of the country. Groups of children can often be seen kicking a soccer ball around in alleys or at the doorsteps.
The game has even become popular among youngsters. In March, the Chinese Football Association (CFA) Youth Academy collaborated with a local kindergarten in Kashgar to provide soccer classes for kids in which a 20-mintue class is taught on a 20-square-meter pitch. Currently Kashgar Football Training Center has opened soccer classes at two kindergartens and professional coaches are providing guidance to over 1,400 kids.
The young soccer players invited to Guangdong this time are ages 12 and 13. They are the best of the best in Kashgar, having proved they are ambitious and have dreams of excelling at soccer. Player Abdullah Abdur said he will work and study hard so that one day he can make it to the national team and play in the World Cup.
Player Abdullah Memet Tursun is a big fan of Portugal soccer team and Cristiano Ronaldo. Asked about the reason why he likes the star striker, Tursun, another player, said "He is tall and has got excellent kicks." Another boy said he loves Ronaldo for his great muscles.
The boys are very happy living and training in Guangdong. Eleven-year-old Imran Tursun said, "I eat and sleep well here. In my hometown, I played football on the ground but here I can play on a real pitch."
Guangdong Provincial Football Sports Center is making great efforts to help these adolescents realize their dreams. Over the past year Guangdong has provided teenagers with many opportunities to receive football training and play in different levels of soccer games to improve their footwork.
During their stay in Guangdong, the Guangdong Provincial Football Sports Center also organized activities to enhance cultural and athletic exchanges between Kashgar teenagers and their peers from Guangzhou, Dongguan and Foshan.
Wang Weidong, an official with the Guangdong Provincial Sports Bureau, said these activities have not only enriched the lives of these youngsters but have also strengthened the communication between the different ethnic groups.
Wang Liang, an official with the soccer sports center of the Guangdong Provincial Sports Bureau and an official who participated in Guangdong's counterpart assistance to Xinjiang, said, "Guangdong initiated the concept of 'assisting Xinjiang through football,' helping Xinjiang to improve their football training system and competition system and introduce Xinjiang football talents to a bigger stage."
The football exchange activity won strong support from the Guangdong Provincial Party Committee of the CPC, the counterpart aid headquarters of Guangdong Government in Xinjiang, the Guangdong Provincial Sports Bureau and China Sports Lottery. (Yang Mei)