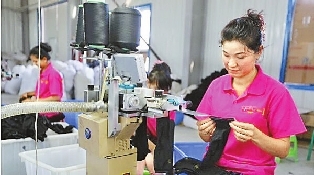 RELYING on its rich resources and geographical advantages, Kashgar has experienced rapid development in its textile and garment industry in recent years. Currently, around 400 textile and garment enterprises from both Xinjiang and other areas have settled down here, turning it into a gathering place along the Silk Road.
A Shenzhen company spokesperson explained that the surplus of cotton resources and a checkpoint proximity advantage are the key points for his investment. "Kashgar is a checkpoint. With the road-rail combined transport, the cost can be reduced by 20 to 25 percent," he said.
Guangdong is a renowned garment processing area in China, with obvious advantages in labor, capital and market. In recent years, over 50 textile and garment enterprises from the South China province have settled in Kashgar bringing investments totaling over 8 billion yuan (US$ 1.18 billion).
According to a projection, Kashgar is set to reach the production scale of 300 million meters of greige material, 10,000 tons of knitted goods, and 200 million pieces of ready-made clothes by the end of 2020, facilitating the employment of 100,000 people.
(Chen Xiaochun)