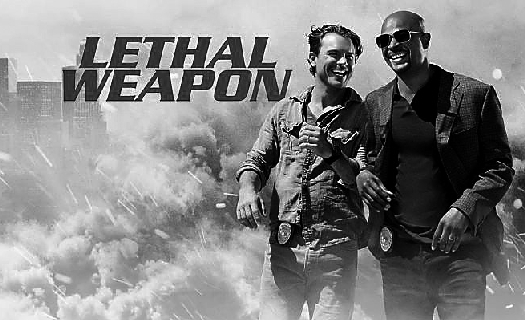 Lethal Weapon 10:40 p.m. on TVB Pearl
Lethal Weapon is a buddy cop action comedy-drama television series based on the franchise of the same name. In the first episode of the second season, Murtaugh intercepts Riggs just as he is preparing to shoot and kill Tito, the drug lord responsible for Miranda's death. He convinces Riggs to bring Tito back to the United States alive, in the trunk of Murtaugh's car. When they prepare to turn Tito over to U.S. authorities, however, they open the trunk and discover Tito has been shot in the head and killed.
US/UK series online
 iqiyi.com
——————
• APB
• Better Call Saul
• Beowulf
• Billions
• BrainDead
• Community
• Damages
• Elementary
• Halt and Catch Fire
• Homeland
• Into the Badlands
• Man With a Plan
• Rellik
• Roots
• Somewhere Between
• Star
• The Art of More
• The Blacklist
• The Halcyon
• The Miniaturist
• The Night Shift
• The X-Files
• Turn: Washington's Spies
• Unreal
 sohu.com
———————
• Agents of S.H.I.E.L.D.
• American Crime
• Arrow
• Billions
• Blindspot
• Breaking Bad
• Extant
• Falling Skies
• Famous in Love
• Fargo
• Friends
• Gotham
• House of Cards
• Legends of Tomorrow
• Lethal Weapon
• Lucifer
• Mom
• Mr. Selfridge
• Olympus
• Person of Interest
• Philip K Dick's Electric Dreams
• Quantico
• Rectify
• Supergirl
• Teen Wolf
• The Big Bang Theory
• The Blacklist
• The Last Ship
• The Night Shift
• The Vampire Diaries
• Training Day
• Wrecked
• 2 Broke Girls
 youku.com
———————
• American Gods
• Black Sails
• Doctor Foster
• Doctor Who
• Downton Abbey
• Emerald City
• Hard Sun
• In the Dark
• Mad Men
• Maigret Sets a Trap
• Sherlock
• The Expanse
• The Durrells
• The Godmans
• Twin Peaks
 qq.com
——————
• Ballers
• Better Call Saul
• Big Little Lies
• Frequency
• Game of Thrones
• Legion
• Lucifer
• Powerless
• Sent
• Silicon Valley
• Supergirl
• The Blacklist: Redemption
• The Collection
• The Flash
• The Night of
• The Vampire Diaries
• Veep
• Westworld
• 2 Broke Girls
TV schedule (July 31)
 National Geographic
————————————
8 a.m. Car SOS S3: EP7: Tim's Golf Obsession
9:00 Megacities: EP5: Mumbai
10:00 Yukon River Run
11:00 Innovation Nation
1 p.m. The Known Universe S3: EP4: Extreme Space Tech
2:00 Yukon River Run: EP5: Man Down
4:00 Wicked Tuna S7: EP12: Point Break
5:00 Air Crash Investigation S17
6:00 Innovation Nation
9:00 The Known Universe S3: EP5: Biggest Cosmic Blasts
10:00 Wicked Tuna
11:00 Air Crash Investigation S17: EP5: Deadly Display
 TVB Pearl
———————
9 a.m. The Cat in the Hat Knows a Lot About That
9:30 The Skinner Boys
12 p.m. CGTN Global Watch
4:00 Sesame Street
4:30 The Cat in the Hat Knows a Lot About That
5:00 The Skinner Boys
5:30 Animal Atlas
6:05 Pearl Magazine
6:35 America's Funniest Home Videos
8:30 Cesar Millan's Dog Nation
9:35 Pearl Spectacular: Wild Philippines With Nigel Marv
10:40 Lethal Weapon
11:45 News