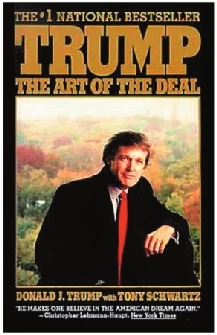 《特朗普:交易的艺术》
"Trump: The Art of the Deal" is a 1987 book credited to Donald Trump and journalist Tony Schwartz. Part memoir* and part business-advice book, it was the first book about the businessman and helped to make him a household name*.
The book received additional attention during Trump's 2016 campaign for the presidency of the United States. He cited it as one of his proudest accomplishments and his second-favorite book after the Bible. Schwartz expressed regrets about his involvement in the book, and both he and the book's publisher, Howard Kaminsky, said that Trump had played no role in the actual writing of the book. Trump has given conflicting accounts on the question of authorship.
The book tells about Trump's childhood in Jamaica Estates, Queens, New York. It then describes his early work in Brooklyn prior to moving to Manhattan, whereupon he engaged in building The Trump Organization. It then describes his actions and thoughts in developing the Grand Hyatt Hotel and Trump Tower, in renovating Wollman Rink, and regarding various other projects.
The book also contains an 11-step formula for business success, inspired by Norman Vincent Peale's "The Power of Positive Thinking." Schwartz was hired to work on the book, and began working with Trump in late 1985.
The book is available at online bookstores like jd.com.
(SD-Agencies)