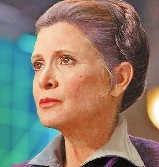 'Hello Mr. Billionaire' opens at No.1 with stellar US$131 million
"Hello Mr. Billionaire," a comedy loosely based on the 1985 Richard Pryor film "Brewster's Millions," dominated the box office in China this weekend with a stellar US$130.77 million opening.
Footage of late Fisher to feature in next 'Star Wars' movie
Late U.S. actress Carrie Fisher will be featured in the next "Star Wars" movie, using previously unseen footage she recorded for the 2015 movie "Star Wars: The Force Awakens," Walt Disney studio said.
Barbecue doc goes viral
"The Story of Chuan'er," a Chinese barbecue-themed food documentary, has gone viral online, giving a taste of different barbecue cultures around the country. Internet users can search "人生一串" to watch the six-episode series on Chinese video site Bilibili free of charge.
Ryan Reynolds to produce
'Home Alone' reimagining
Actor Ryan Reynolds is on board to produce stoner comedy "Stoned Alone" that is in the works at Fox.
Demi Lovato hospitalized for apparent drug overdose
Singer Demi Lovato is awake and with her family after being hospitalized, according to a statement from the singer's representative. A source close to Lovato's family previously revealed the singer's hospitalization was the result of an apparent drug overdose.
Judge rejects lawsuit over 'Shape of Water'
Fox Searchlight and director Guillermo del Toro have scored a decisive knockout in the copyright lawsuit over the Oscar-winning film "The Shape of Water." A California federal judge rejected claims made by the family of late Pulitzer Prize-winning author Paul Zindel.
(SD-Agencies)