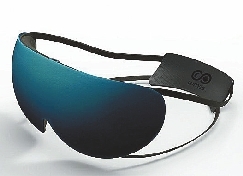 睡眠面罩横空出世
A new eye shade could help reset your internal body clock so you can fall asleep more easily at night.
The high-tech sleep mask uses light-flash technology, developed by researchers at Stanford University in California, to regulate your daily (circadian*) rhythm by sending out light pulses as you sleep.
The makers of the Lumos Smart Sleep Mask say these pulses — similar to a camera flash — help stimulate* light sensitive* nerves in the brain that send signals to suppress* or produce melatonin*, the hormone* that controls when you are awake and when you go to sleep.
They hope this technology will be a less expensive, and easier, treatment for people who can't sleep either due to insomnia* or jet lag*.
Our biological clocks are synchronized* to light-dark changes and regulate multiple physiological* processes including patterns of body temperature, brain activity and hormone production.
Light is the main cue that influences circadian rhythms. When the sun rises, the brain sends signals to the pineal gland* to suppress melatonin production. But when the sun sets, the pineal gland receives signals to secrete* melatonin to make you drowsy.
The mask's makers also say it could help people suffering from jet lag, when the circadian clock is naturally thrown off due to a time zone switch.(SD-Agencies)