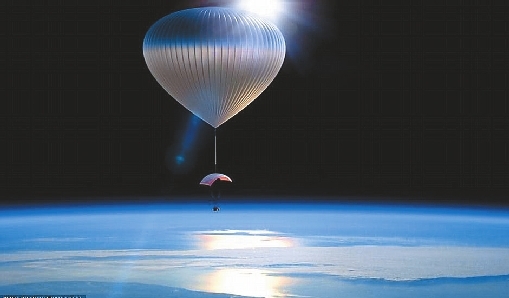 这家公司想用气球带你到太空边缘
In just a few years, tourists could see themselves taking a relaxing trip to the edge of space, towed by a high-altitude, helium*-filled balloon.
World View Enterprises has been honing its flight system over the last few years ahead of plans to send passengers to more than 30,480 meters above Earth's surface, with tickets costing roughly US$75,000 a pop.
World View conducted over 50 flights last year. Alan Eustace, a computer scientist and former vice president at Google, says a ride with one of the balloons could make high-altitude travel far more pleasant than those conducted via rocket launch. "It will be a beautiful experience," he said.
Back in 2015, Eustace completed a record-breaking free fall from about 41,425 meters, relying on a balloon and suit.
Unlike the noise and intense vibrations of a rocket, the balloon rides are quiet. "This will appeal to a huge number of people that want to see things from a different perspective," he said.
At the moment, the firm primarily conducts missions for the U.S. Government, including a recent effort to fly a military imaging system from Arizona to Mexico.
Soon, they hope to carry private customers. The manned* flights will be conducted with its Voyager capsules. World View completed tests with a scaled-down replica* spacecraft at a final altitude of 30,624 meters back in 2015.
For full-scale flight tests, World View will use a flight test article with mass and aerodynamics* equivalent to the Voyager spacecraft.
The final capsule will offer Wi-Fi, a bar and a lavatory as they float along the edge of space for one-to-two hours at peak altitude of 30,480 meters.(SD-Agencies)