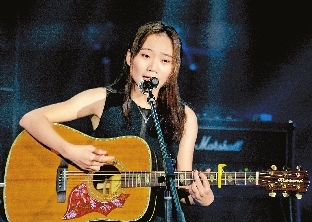 深圳学生举办土拨鼠音乐节
Chen Xiaochun
654789759@qq.com
The second Marmot Music Festival, solely organized by Shenzhen students and themed "You Are Unique," took place at A8 Live on July 24. The festival also invited student performers from other cities and employed a ticketing platform built by students from Shenzhen University for ticket presales.
The music festival this year covered genres ranging from hip hop to electronic music, folk music, and rock and roll. A total of 20 teams staged over 100 performances within six hours.
Lin Dong, 18, is the main organizer of the brand Fire Balloon Music and chief producer of the Marmot Music Festival. Lin, who graduated from Shenzhen Xixiang Middle School, just took the college entrance examination in June. With his love for music, he founded Fire Balloon Music in 2012.
"I had only 26 yuan in my pocket at that time. I got sponsorships of 20 to 30 yuan within four days as startup capital. For the rest we depended on ticket sales. The students buy the tickets and we can recover the cost," said Lin.
Through continuous efforts, Lin found excellent original musicians from different schools for the festival. Lin explained that, among the performers, the youngest are Grade 9 students and the oldest are college students. "They play different styles of music. But it is amazing that we gather here at the same time for the same event and the same love for music."
Wei Zhipeng, with the stage name "Yu Yue," is a musician with Fire Balloon Music. An excellent player of guitar and saxophone, he also excels in playing R&B. Wei was the champion of the 16th Top 10 Singers competition at the No. 3 Senior High School of Shenzhen. In 2017, he published his first mixtape.
"Lin Dong has heard my music before. He invited me to join the music festival and I come. This music festival requires stage performances. I need to participate in cool events like this," said Wei.