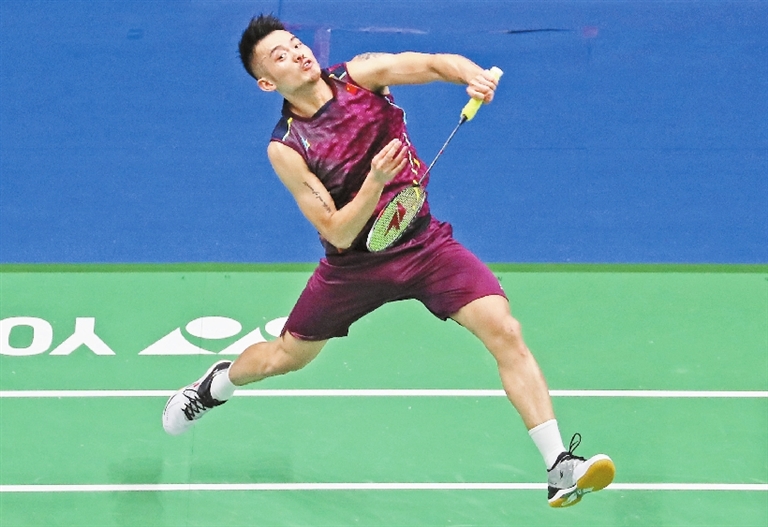 CHINESE superstar Lin Dan and "nervous" number one Viktor Axelsen both made ominously fast starts at the badminton World Championships in Nanjing, Jiangsu Province, on Monday.
The 34-year-old Lin is seeking a sixth world title, and in front of an adoring crowd in Nanjing he made light work of Dutchman Mark Caljouw, winning 21-14, 21-14 in 49 minutes.
Lin nonchalantly ended one long rally with a deft flick, the shuttlecock dipping just over the net to bring the arena to its feet in appreciation.
"Although it seemed to be an easy win in terms of the score but it's actually a tough struggle. It's good for me to play an opener like this," Lin said. "I was playing a big guy today. I have watched his matches before and know he has very solid defense."
Super Dan went into the match with good form, taking an early 12-4 lead in the first game. But Caljouw staged a strong fightback later and closed the gap to two points by winning six in a row. The experience worked just in time as Lin quickly restored himself and answered with another six-point winning streak before sealing the first game 21-14.
The second was much closer from the beginning, but Lin regained his momentum and led by 16-14, winning five straight points to wrap up the victory and dispatch the opponent who is 12 years younger than him.
"Considering my age, I was very clear that I had no advantages in terms of physical prowess. I should rely more on my experience and ability to adjust during the match," the former world No. 1 said.
Lin's last major title was the Malaysia Open in April 2017 and he finished runner-up at the All England Open in March when he lost to his Chinese compatriot Shi Yuqi in the final.
Axelsen, the top seed and reigning champion from Denmark, was even more emphatic, needing just 26 minutes to thrash Duarte Nuno Anjo of Portugal 21-8, 21-7 in a mismatch.
Also safely through on the first day of action was China's third seed Shi Yuqi, a comfortable 21-13, 21-11 winner over Adam Mendrek of the Czech Republic.
The 24-year-old Axelsen, who has endured an injury-affected season, admitted afterwards to a bout of nerves — though it hardly showed.
"I don't want to think too much (about my title defense), it is important for me," Axelsen was quoted by the Xinhua news agency as saying.
"I need to be relaxed and see how far I can go.
"I was a little nervous today, but I feel good about the arena, it's very big and easy for me to have good control of the shuttle."(SD-Xinhua)